Tuesday, 12/07/2022 | 09:26
Fan Filter Unit (FFU) 101: What You Should Know
1. What is fan filter unit (ffu)?

Fan filter unit (FFU) is an air purification device. FFU is used to provide the filtered air in unidirectional flow for cleanrooms.
The main components of FFU are housing, a fan, HEPA filter, motor and controller.
Housing: made of galvanized steel, powder-coated steel or stainless steel SUS 304. The housing material is designed according to customer's requirements
Centrifugal-type fan with motor: sucks and blows the air to create the static pressure, then brings the air through HEPA filter.
HEPA filter: the most important part of FFU, which filters the air and creates a fresh and clean environment for laboratories, workshops, cleanrooms, etc.
Controller: equipped with a 3-position switch for speed control, and on/off switch. There are 3 levels of fan speed (low, medium, and high)
3. FFU specifications
FFU dimension: FFUs provided by VCR has 2 standard sizes (LxWixD): 1175x575x250 mm and 575x575x250 mm
Airflow: The airflow of FFU is around 1000-1200 m3/h for FFU1175, and 600 m3/h for FFU575
Noise level: The noise in non-unidirectional airflow must not be louder than 60dB, while the noise in unidirectional airflow must not be greater than 65dB. Therefore, when choosing fan filter unit, the noise level of FFU is as low as possible.
Air velocity: The average air velocity is about 0.45m/s
Control system: DC motor is energy-saving and has a smart control, and lower noise, while AC motor has louder noise. The AC motor is much cheaper than DC motor.
Air filter: HEPA filter with efficiency up to 99.99% at 0.3 micron particles, ULPA filter with efficiency up to 99.99% at 0.1 micron particles
4. How does fan filter unit work?
The air is pulled in from outside through the pre-filter by the motor, then it is forced through the HEPA filter and goes out. The fan filter unit is unducted. Most of the time, fan filter unit pulls air from ceiling plenum, pulls it out before it goes to space
5. When do we need to install fan filter unit?
Air change rate per hour requirement for a cleanroom is high
The supply AHU is not HEPA filtered but certain rooms need HEPA filtration
The supply AHU cannot handle the pressure requirement for a HEPA filtration
6. Clean room FFU classification
By size: FFU has 2 standard sizes (LxWixD): 1175x575x250 mm and 575x575x250 mm
By material: Powder-coated FFU, galvanized steel FFU, stainless steel FFU
By motor: AC FFU, DC FFU
By filtration efficiency: High-efficiency FFU, ultra-high-efficiency FFU
FFU normally has single-phase AC motors, three-phase AC motors and DC motors. FFU usually has motor power supply voltage such as 110V, 220V, 270V and 380V. There are 4 types of control methods:
Continuous speed adjustment control mode: Compared to multi-gear switch control, this control system has additional continuous speed function. It can adjust the fan speed continuously. But the power consumption is greater than the multi-speed switch control mode.
Multi-speed switch control mode: The FFU having this mode only includes a speed switch and a power switch. The advantages of this method are simple to use and cheap.
Computer control mode: This system has an advanced function: centralized monitoring and control. It can monitor a single FFU, multiple FFUs, and the area. Moreover, the system can be set communication interface for remote communication and management.
Remote control mote: This is a supplement to computer control mode.
These methods should be selected according to the actual situation.
9. What are the advantages of fan filter unit?
Easy to install and maintain
Steady airflow
Energy-saving
Space-saving
10. How to maintain fan filter unit?
Filter replacement: HEPA filter is unwashable so it should be replaced every 6-12 months
Airborne particle counting test: Regularly (usually once every 2 months) use a particle counter to measure the cleanliness of the cleanliness area. If the measured cleanliness does not match the required cleanliness, the reason should be investigated (whether there is leakage, etc.) If the HEPA filter is worn, you should replace it with the new filter.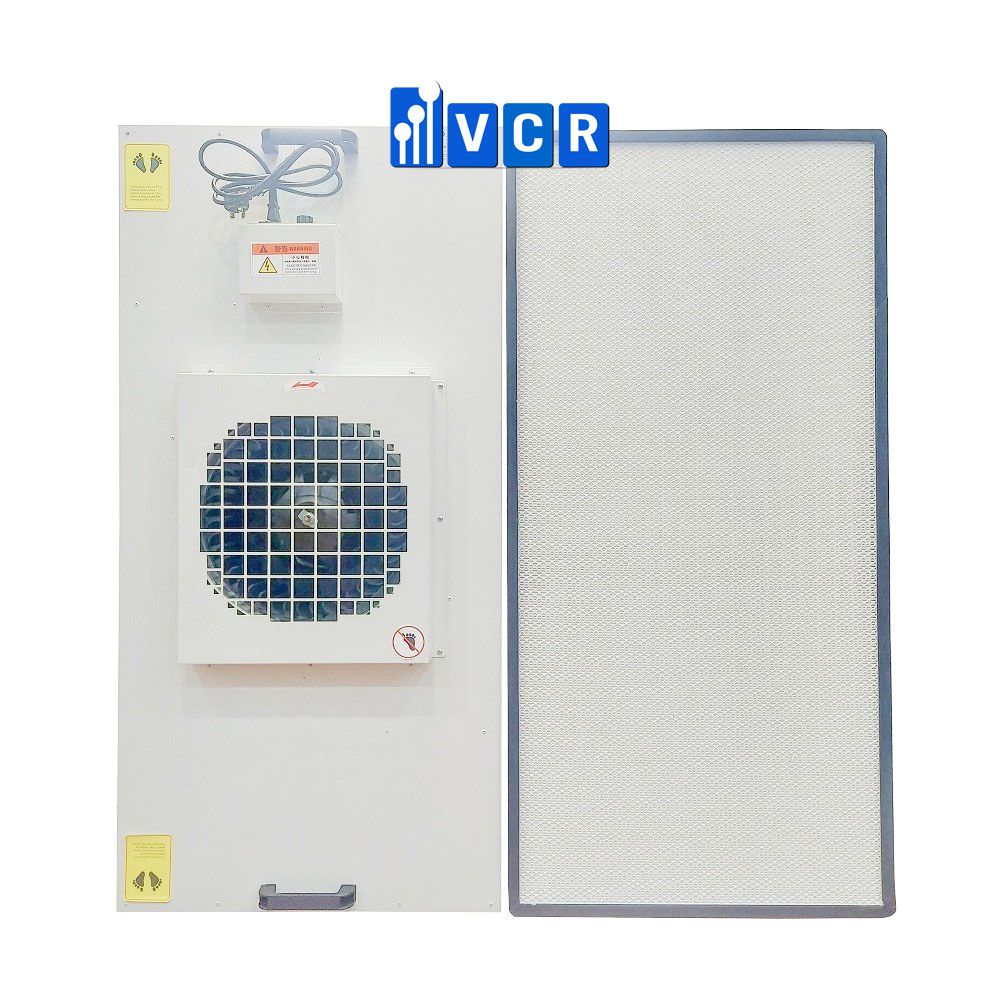 Vietnam Cleanroom Equipment (VCR) specializes in providing cleanroom equipment for construction contractors.
We provide high-quality products with competitive prices and large quantities nationwide. The equipment includes:
Differential pressure gauge, FFU Fan Filter Unit, Pass box, Clean room air filter, HEPA box, Clean booth, cleanroom steel door, Isolator cabinet, and other equipment