What is laminar air flow (LAF)?
Laminar air flow units with adjustable fan speed complete with gel seal HEPA are a series of high-efficiency products designed to protect equipment and other contents of the work zone from particulates to meet class A cleanliness requirements.

Laminar Airflow System characteristics and features
Provides HEPA filtered airflow through the work area that protects the product from airborne contamination and provides a sterile environment, minimizing cross-contamination.

Built-in LED light.

Differential pressure gauge monitors filter pressure drop.

A removable cq screen airflow ensures uniform airflow will be evenly distributed will be uniformly distributed.

Containment System
Economical laminar flow cabinet with clean, simple, low-maintenance design is a workbench with class 100 environment that can be used in the assembly, testing, and inspection procedures that require a continuous flow of ultra-clean air.

Provide a sterile positive pressure environment for the compounding of non-hazardous drugs.

Integrated Fan Filter module with low noise & energy-efficient fan.
Product schematic diagram: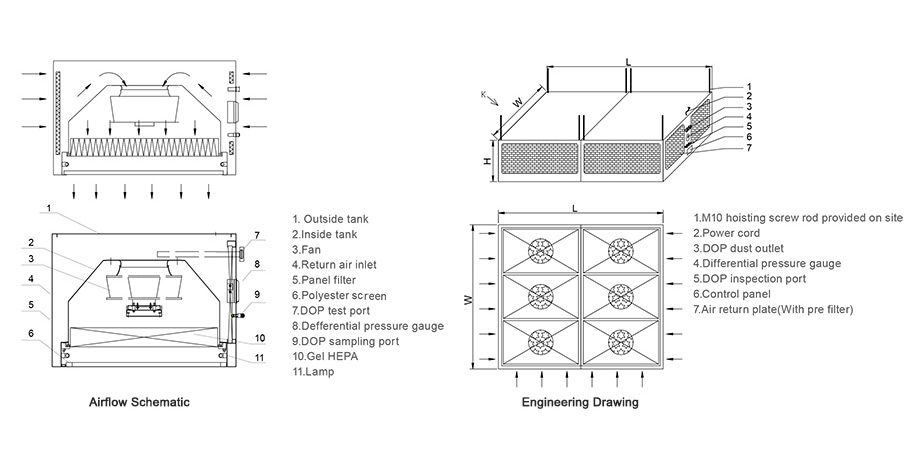 Laminar airflow system standard size and parameters
 

Model

 

Overall size
L×W×H

 

Overall size

L×W

 

Upstream Rated air velocity

(m/s)

 

Working area clean class
(grade)

 

 

Noise

(dB)

LUFH12-120060

1200×600×650

1200×600

0.45±20%

A(ISO5)

 

65~75

LUFH16-100100

1000×1000×650

1000×1000

LUFH32-200100

2000×1000×650

2000×1000

LUFH35-180120

1800×1200×650

1800×1200

LUFH47-240120

2400×1200×650

2400×1200

LUFH49-200150

2000×1500×650

2000×1500

LUFH65-200.200

2000×2000×650

2000×2000
Note: Specifications listed in the table are only for customers' reference. It can be customized according to your URS.