LENGE BIBO (Bag In Bag Out Filter System)
The LENGE Bag In/Bag Out side access filter system is a safe, simple, reliable method for removing contaminated particulate filters and/or gas absorbers used fo
The LENGE Bag In/Bag Out side access filter system is a safe, simple, reliable method for removing contaminated particulate filters and/or gas absorbers used for air purification in hazardous environments. With this system, maintenance personnel are protected from coming in direct contact with the interior of the housing and hazardous contaminants during filter change-out.

Characteristics and Features
Manufactured from powder-coated cold-rolled sheet or 304 stainless steel and 316 stainless steel for option.

Housing accommodates standard gel seal HEPA filters and prefilter.

All pressure boundaries are fully welded.

Multi-wide housings are equipped with a filter removal rod to draw the filters to the change-out position.

One PVC change-out bag is furnished for each filter access port.

Deep Adsorber Housing: Housings are available for 12", 16" and 18" filter cells. When additional residence time is required, these units can be furnished in series, or operated at lower face velocities.

Upstream Filter Seal: Each HEPA filter seals against the air entering face of the frame to prevent interior contaminant build-up.

 
Containment System
Three Filters Per Door

Units up to three filters wide are serviced through only one door. Two doors are furnished with units four through six filters wide, one on each side of the housing.

Separate Door

Each filter component, prefilter, HEPA filter, and adsorber filter is furnished with an individual door with protective bag to allow selective, safe, and economical service.

External Flanges

All housing flanges are turned out for ease of field connection and to keep them out of the contaminated gas stream, ensuring smooth non-turbulent airflow.

Standard Final Filters

The basic housing is designed for standard 24' x 24" x 11½" HEPA filters or carbon adsorber cells. LENGE designs and manufactures a full line of HEPA filters and adsorber cells. Filters include high-capacity HEPA filters for service up to 2,000 CFM each.

Door Details

Door showing gasket, also pictured are optional lifting lugs, pressure taps, and weather cover.

External Locking Mechanism

All gasket seal filters and adsorbers are furnished with a replaceable clamp-type locking mechanism which is actuated from outside the housing. Filter seals can be "fine-tuned" as needed without opening the door. An optional security device is available to turn an external locking mechanism into an internal locking mechanism.

This requires that the door be opened for the locking mechanism to be activated.

Internal Locking Mechanism

All fluid seal filters are sealed using an internally actuated locking arm.

Flow of particle free air (measured at 0.3µm particles) to meet cleanroom requirements—99.995% efficient ULPA filters also available

Filter Module

Pre-filter -- Panel filter G4

HEPA filter -- Gel sealed mini-pleated HEPA filter H14

Fan modules include 99.99% efficient HEPA filter to ensure clean working conditions.
Product schematic diagram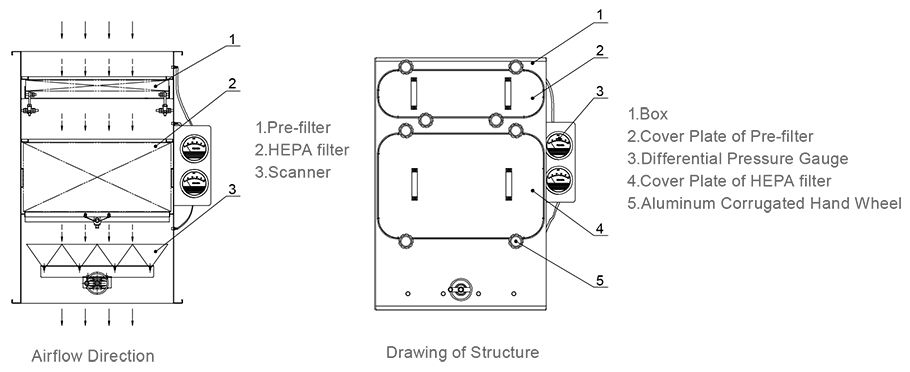 standard size and parameters
| | | | |
| --- | --- | --- | --- |
| Model | Overall size W×D×H | HEPA size W×D×H | Rated air flow(m3/s) |
| LWB1700 | 400×725×900 | 305×610×292 | 1700 |
| LWB3400 | 705×725×900 | 610×610×292 | 3400 |
| LWB5100 | 705×1175×900 | * | 5100 |
Note: specifications listed below table are only for customers' reference. It may be designed and manufactured according to customers' URS. *indicates that this specification needs one air filter of 305x610x292 and one of 610x610x292.