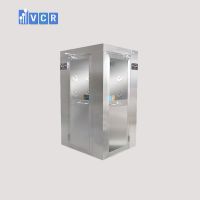 Stainless Steel Airshower
Air Shower prevents a person entering the cleanroom from carrying with him dust and bacteria adhering to his body, clothing. Air Shower also provides and effect
Air Shower Description
It's an airborne pollutants barrier between clean room and the worker's gowning area and prevents accidental contamination due to the unwanted or improper opening of the doors.
Air Shower prevents a person entering the cleanroom from carrying with him dust and bacteria adhering to his body, clothing etc. Through air jets produced by the clean air circulatory system of the equipment. Air Shower also provides and effective airlock system which restricts the clean area in the event of door opening.
Air shower consists of cabinet, stainless steel door (cold steel), pre-filter, HEPA filter, pan, plenum chamber, nozzle, interlocking control panel, operation panel, sensing equipment, etc.
Cold steel is used for the air shower's cabinet, and stainless steel is used for the bottom. As to different customer's requirements, air showers with different materials or sizes can be designed and supplied.
Airshower Working Principle
As the person enters the shower room, the start switch activates the pre-selected shower time to produce flood of high velocity low pressure clean air through the fourteen concentric nozzles which washes away dust particles and other contamination adhere to the body and the same is swept away through the filtration media provided at the floor level exhaust of the equipment.
The electronic timer also activates magnetic locking system of the unit which is synchronized with the Air Shower timing for entry and exit. High-efficiency microfiltration media are used for cleaning & recycling of the clean air in the Air Shower up to efficiency to produce Class 100 or Class 10000 clean air.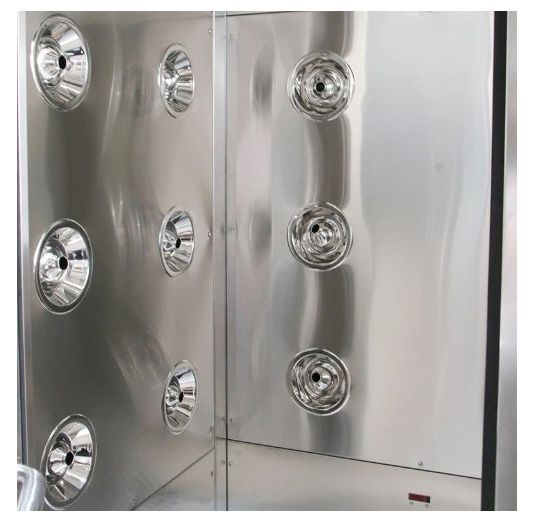 Airshower Specification & Features:
- Material: Stainless steel SUS304;
- Electronic interlock: When A door is open, B door will be locked. A & B doors can't be open during blowing;
- In case of emergency happens, emergency off button is equipped according to customers' needs. Once press, two doors will be open. A power failure safety function:the door locks will open automatically, while power fails accidentally, to protect workers from dangers;
- Color LCD screen & touch-point switch are used to control the blowing time and lamp time. It shows reminder of HEPA filter replacement when needed;
- Infrared sensor can have the automatic blowing and stop;
- An optional timer, which deactivates the interlock system 5 seconds after air shower clean mode finished, is available.
- Two-side blowing, left and right, stainless steel nozzles. Three-side blowing can be provided if needs;
- German Dorma door closer is stable;
- 360-degree rotatable nozzles are installed if needs to keep the high efficiency when blowing off particles from personnel;
- Have electronic interlock air shower patent.
- Custom sizes are possible.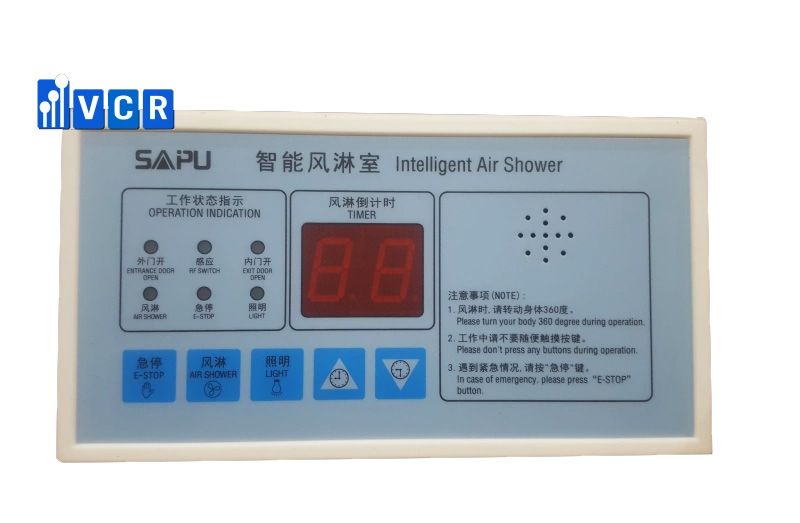 Airshower Application:
- Electronic and Pharmaceutical Industries
- Research Centres
- Semi-Conductor
- Processing Areas
- Computer Manufacturing and many other places requiring restrictive cleanroom entry.