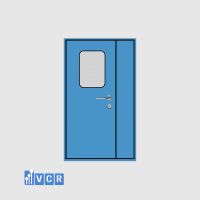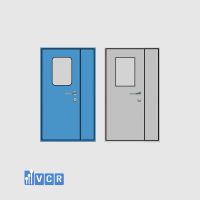 Unequal Double Clean Room Door
Steel doors are rust proof, freem from dust retention, moisture-proof, insect proof, non-deformable, non-cracking, durable, seamless, air tight and have good
Product Description
This product has door frame, door, hinge, lock, and drop seal. The door is made of double side electro-zinc coated sheet, and paper honeycomb or rock wool is utilized as the lining material. Furthermore, the door applies an automatic up and down drop seal to effectively protect the floor while providing dustproof and automatic airproof performance. A single layer or double layer rectangular observation window is also furnished.
Features
Steel doors are rust proof, freem from dust retention, moisture-proof, insect proof, non-deformable, non-cracking, durable, seamless, air tight and have good insulation performance.
They are equipped with various types of door frames, different thickness of the wall and easy to install.
Their colours are various and can be customized to meet the requirements of customers.
The core material of the steel door can be selected according to the requirements of the customers. The strength of the paper honeycomb and the aluminum honeycomb core material are high and the fireproof property of the rock wool material is better.
Unique structure to achieve full flatness on double surface and air tight fully flush connecting between door leaf, wall panel and door frame.
The whole doorset are completely made from steel with powder coating treatment.
Able to accommodate with double-glazing view window, tempered glass, flush with door panel surface and perfectly sealed.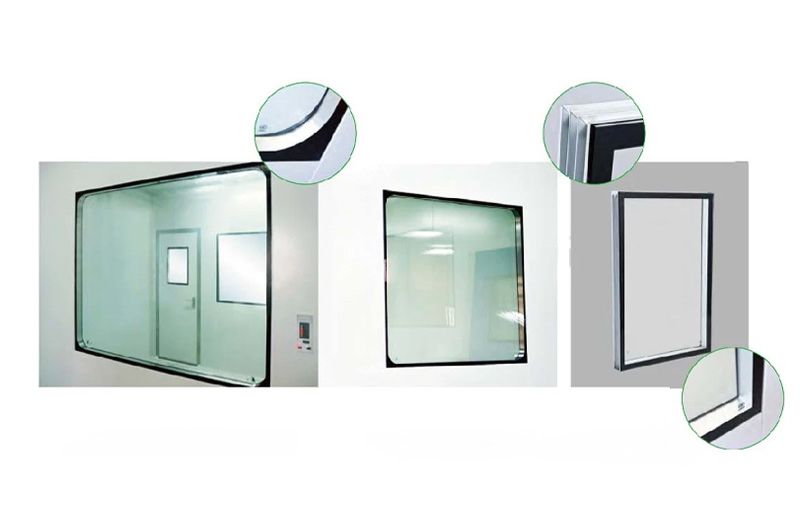 With stainless steel fireproof lock, all parts are round and covered to avoid dust.
All edges of the door are sealed with rubber sealing strip.
Door bottom part is equipped with automatic drop seal to guarantee the air tightness of the whole room.
Structure and Material
As the name suggest these doors can resist exposure to chemical washing and are designed to meet the most rigorous requirements for clean and hygienic applications. The unmatched design and quality increase the life of the door.
- Door leaf: Surface is 0.8 or 1.0mm thick painted galvanized steel or 304 stainless steel. Inside is filled with high-density honeycomb paper or rock wool. Thickness: 50mm
- Door frame: It is made from 1.2mm or 1.5mm thick painted galvanized steel or 304 stainless steel. All around smoke-proof expansion rubber
- Hinge: Material: 304 stainless steel, Size: 3.5-inch, Design: hidden type to reduce gap and avoid dust entering room.
- Handle Lockset: Material: 304 stainless steeel, Handle: round-shape leveler type, Cylinder: heavy-duty bronze, with three keys.
Door Closer: heavy-duty hydraulic type, non-stop or 90o-stop
Glass Window: Specially design for clean room glass. It is made from double layer  hollow glass, total thickness 40mm, completely plain with door leaf surface, avoiding dust and easy for cleaning. Glass type: 5mm thick safety tempered glass. There is silica gel inside the window. It will absorb humidity environment of clean rooms.
Seal structure: There are all-around seal rubber between frame and leaf. Further more, automatic seal rubber is installed at the bottom of the door leaf. It can automactically drop down to close the gap between door leaf and floow when door closed. Thus, it can help prevent dust and air from outside.
Surface treatment: Powder coating with optional RAL colors.
Door Types: + Steel Single Clean Room Door
                    + Unequal Double Clean Room Door
                    + Double Clean Room Door
Main application: Clean Room, Pharmaccuetical factory, Food facory, Laboratory, Hospital, Electronic factory, ....
Size

Single door

Double door(Small & big door)

W:700mm×H:2100 mm

W:1200mm×H:2100 mm

W:800mm×H:2100 mm

W:1500mm×H:2100 mm

W:900mm×H:2100 mm

W:1800mm×H:2100 mm