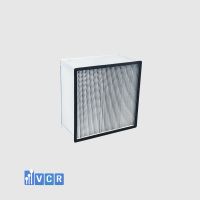 Aluminum Foil Separator HEPA Filter
HEPA filters are manufactured from the highest quality components, under demanding quality control conditions, and are certified to ensure performance
Description
It is mainly used to catch dust particles in the air with the diameter of 0.3um and below and used for the terminal filtration of all kinds of filtration systems.
Application
It is an ideal terminal filtering device for the clean-up system of FFU, clean bench, clean booth, clean room etc.
It is extensively used in the terminal filtration of the civil or industrial cleansing places in the industries such as electron,
semiconductor, precision mechanism, pharmacy, hospital and food, etc., which required relatively high cleanliness
factors.
Material and operating conditions:
| | |
| --- | --- |
| External frame | Cardboard, aluminum alloy or GI |
| Sealant | Polyurethane |
| Separator | hot-melt |
| Filter media | PP, PP/PET, fiberglass or HV fiberglass |
| Maximum operating temperature | 80°C |
| Maximum operating humidity | 80% |
| HEPA filter Efficiency | ≥95%-99.995% |
Advantages:
- High efficiency for H13, H14.
- Large dust capacity,because the filter media adopts the ultrathin glass fiber, the hot melt glue spacing each pleats in regular so that achieve high dust volume.
- Aluminum frame of High Quality Deep Pleat Air Purifier H13 HEPA Filter Factory can anticorrosion for long time.
- Sealant around the media prevent the air filter is without any air leaking.
- HEPA filter with metal screens, preventing damage to the filter media
- High Quality Deep Pleat Air Purifier H13 HEPA Filter Factory comes with relative light weight for easy to install