Dispensing booth is an advanced containment system that provides controlled negative pressure environments to maximize personnel protection during the weighing and sampling process. LENGE provides standard configurable designs which are able to adapt to various weighing and sampling requirements.

LENGE Dispensing Booth Features:
Cross-contamination control through negative pressure environment option.

Full unidirectional airflow provides superior aseptic work zones.

Fully welded single piece SUS304 internal chambers with rounded covered corners.

Clean interior and exterior finishing.

GMP modular design with minimized joints and seams.

Gel seal HEPA filters, HEPA/ULPA gel sealed design is better than conventional gasket sealed.

Dimensions are customized to suit process requirements.

All components meet or exceed applicable safety requirements.
Containment System:
Main Stream - The opening provides an airflow velocity of 0.45 m/s.

Equipped with control system.

Standard controls suitable for safe area applications.

Includes electrical sockets as standard.

RH/Temperature sensor.

HEPA filter to provide high level of filtration.

Emergency stop.

HEPA fan module provides laminar flow of particlefree air (measured at 0.3µm particles) to meet clean room requirements—99.995% efficient ULPA filters also available.

Filter Module
       —— Pre filter -- Panel filter G4
       —— Comfort filter -- Bag filter F8
       —— HEPA filter -- Gel sealed mini-pleated HEPA filter H14
Fan modules includes 99.99% efficient HEPA filter to ensure clean working conditions

380 V power supply 

Product schematic diagram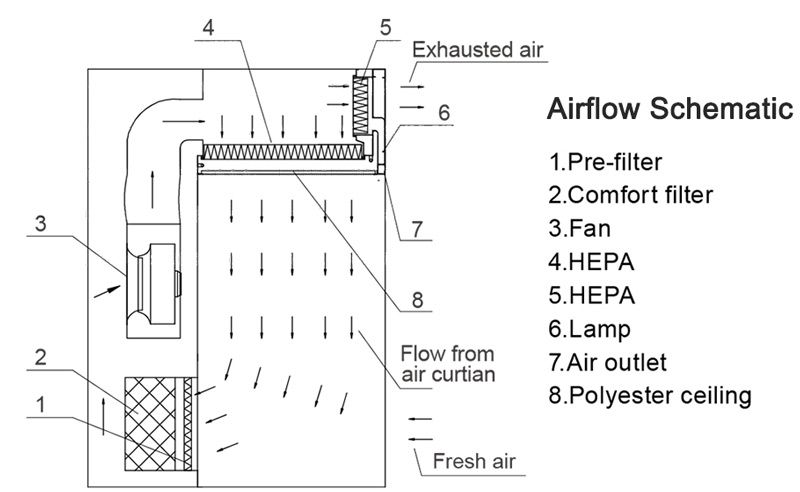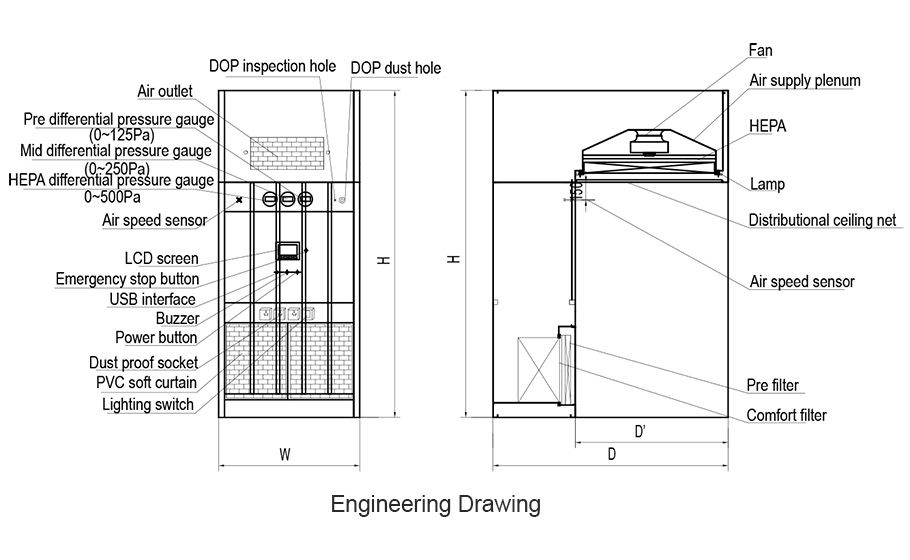 Standard size and parameters 
Model

Overall size
W×D×H

Working  size
W×D×H

Rated air velocity
(m/s)

Working area
clean class

Power
(kw)

LWR 13-120060

1300×1200×2570

1200×600×2000

0.45±20%

Same as the background area

0.8

LWR 34-150120

1600×1800×2570

1500×1200×2000

2

LWR 75-200200

2100×2800×2570

2000×2000×2000

4

LWR 112-300200

3100×2800×2570

3000×2000×2000

4

LWR 186-400250

4100×3300×2570

4000×2500×2000

7.5
Note: specifications listed in the below table are only for customer reference. It is mostly designed and manufactured according to the customer's URS.