Tuesday, 12/07/2022 | 14:47
Cleanroom design for food processing industry
Food safety is directly related to human health. Therefore, cleanroom utilization for food processing industry is very important to ensure food production safety. Food manufacturers must not only build clean rooms but also design their plants with the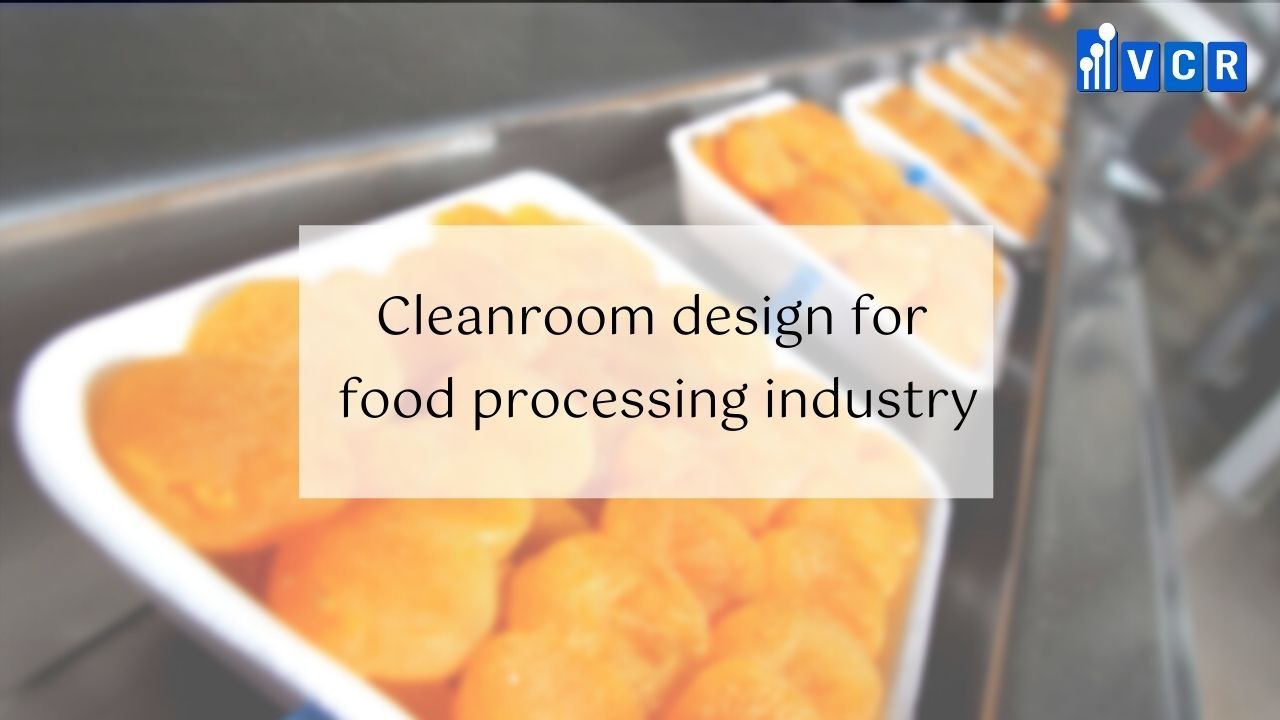 Food safety is directly related to human health. Therefore, cleanroom utilization for food processing industry is very important to ensure food production safety.
Food manufacturers must not only build clean rooms but also design their plants with the highest levels of temperature and humidity. Cleanliness class and consistency of cleanliness control are core parameters for the quality assessment of food manufacturing plants. Even it's a new or renovated project, food manufacturing plants are must be followed by the rules and standards like Good Manufacturing Practices (GMPs).
1. Food processing workshop structure
Food factories are mainly made of steel, concrete, or brick. Depending on what is produced in the factories, we will design the structure to suit the special requirements of food processing.
The space of the workshop needs to be adjusted in accordance with the production process. The average area of a worker in food processing workshop should not be less than 1.5 square meters (equipment excluded). Overcrowded factories not only hinder production activities, but the collision between employees, and the contact between employees' clothing and equipment is also easy to contaminate products. The height of the workshop should not be less than 3 meters and the cooking room should not be less than 5 meters.
Cleaning facilities of processing areas, such as changing rooms, bathrooms, and toilets, should be an integrated structure in the building. Areas for storing and processing seafood, meat, and quick-frozen foods should also have an adjacent structure.
2. Food processing workshop layout
The layout of the food processing workshop not only facilitates the connection of different production lines but also facilitates the management of food safety and hygiene to prevent cross-contamination during the production process.
Food processing is basically a process from raw materials to semi-finished products, then to finished products. Therefore, the production process of the food workshop should be arranged in accordance with the order of product processing.
There should be corresponding isolation measures between clean and unclean areas to control human traffic and logistics. Moreover, to avoid cross-contamination, processed products need to be transferred through the pass box.
Disinfecting tools, arranging cleaning tanks for cleaning and sterilizing tools is necessary for ensuring hygiene in food workshop.
3. Cleanroom structure in food processing factories
Cleanroom floor
The food cleanroom floor should be made of non-slip, solid, waterproof, easy to clean, anti-corrosion materials. The floor surface must be flat. The level of the food cleanroom should be higher than the surrounding area
Cleanroom wall
Cleanroom wall panels should be made of anti-corrosional, easy to clean, durable, non-toxic, waterproof material.
Clean room ceiling
Cleanroom ceiling panels should be easy to clean and should not cause stagnation of water droplets in the working area.
Cleanroom doors and windows
Doors and windows of food cleanrooms should have anti-insect, anti-dust and anti-rat devices. The materials used must be corrosion-resistant and easy to clean. The window sill is not less than 1m from the ground, with a slope of 45*.
4. Facilities of temperature control
The processing plants of perishable products should be equipped with air conditioning units. The temperature in the meat and seafood processing workshop should not exceed 15°C~18°C in summer, and the temperature in the marinade room for meat products should not exceed 4°C.
Tools, equipment, utensils used in the processing, especially machines, equipment in contact with food, operating platforms, conveyors, pipes and other equipment, baskets, trays, knives, and other tools must meet the following conditions:
Non-toxic to the product
Corrosion-resistant, not easy to rust, not easy to aging and deformation
Easy to clean and disinfect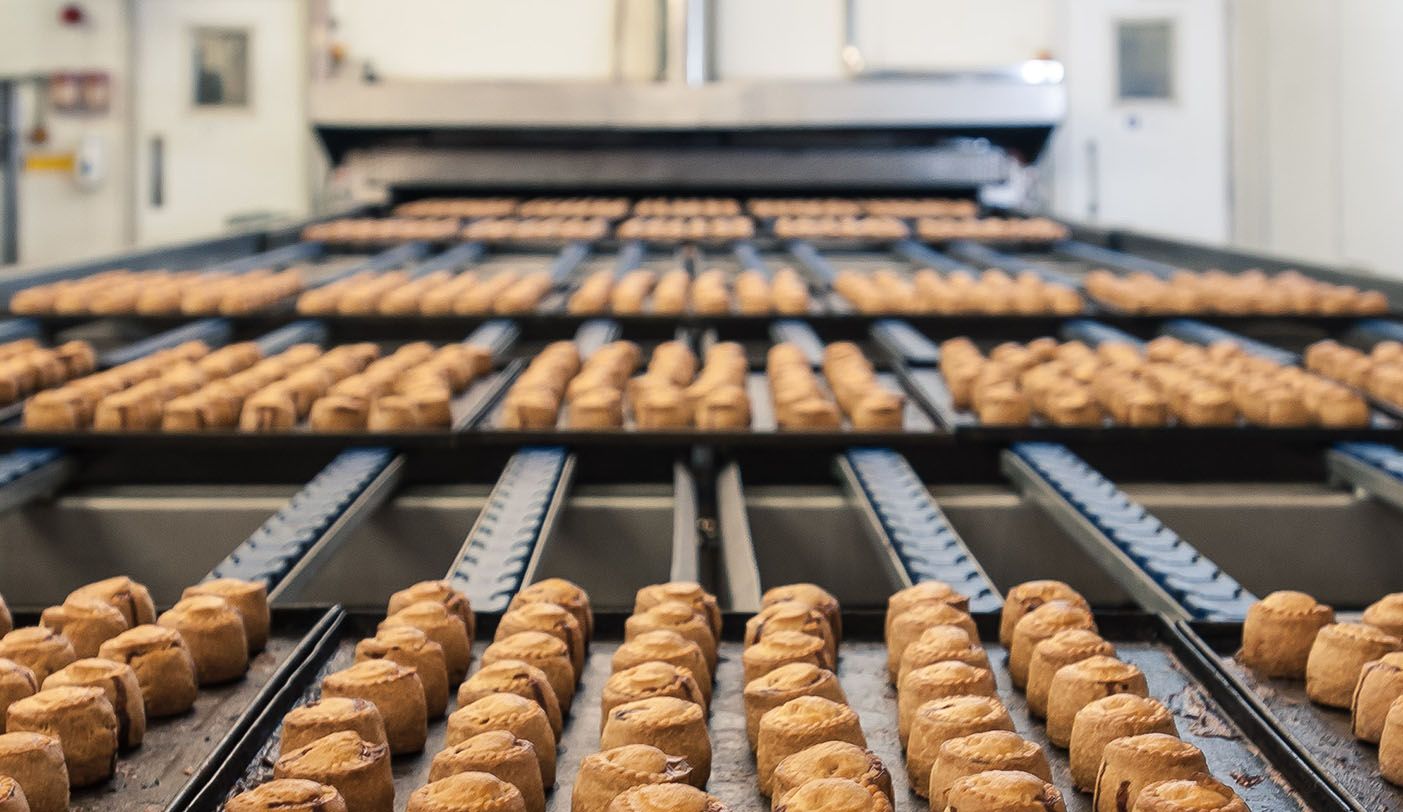 5. Personnel sanitation area for food processing factories
Dressing room
Food manufacturing plants need to be equipped with changing rooms suitable for the number of processing workers. The changing room should be connected to the processing workshop. If necessary, separate changing rooms should be arranged for processing staff working in clean and unclean areas, entering and leaving the respective working areas. Note that the aisles should be separate.
Keep personal clothing and shoes separate from cleanroom clothing and boots. The dressing room should maintain good ventilation and lighting. Indoor air can be disinfected by installing ultraviolet lamps or ozone generators.
Bathroom
Workshops that process meat (including canned meat) should be equipped with a bathroom connected to it. When designing a bathroom, it is important to pay attention to the size of the bathroom to match the number of processing workers in the workshop.
Bathrooms should be well ventilated, floors and walls should be made of light-colored, easy-to-clean, anti-corrosion and waterproof materials. The floor must be anti-slip, the base of the wall and the top must be painted with anti-mold paint, the floor has good drainage and good ventilation.
Hand washing and disinfecting sinks
The entrance to the food clean room should be equipped with handwashing and disinfection sinks corresponding to the number of employees in the workshop. The number of hand wash faucets that need to be configured is 1 faucet for 10 people and 1 faucet for every 20 people (over 200 people).
Handwashing facilities must have soap dispensers with hot and warm water supplies. The number of hand sanitizer dispensers also needs to be adjusted to suit the number of users and should be placed reasonably for ease of use.
Hand drying tools such as hand dryers should be items that do not cause cross-contamination, such as disposable tissues, disinfectant wipes, etc.
Toilet
For the convenience of production management and cleaning, the toilet connected to the workshop should not be located in the processing area but should be located in the changing area. Toilet doors and windows should not open directly into the processing area. Walls, floors, doors, and windows of toilets must be made of light-colored materials, easy to clean and disinfect, anti-corrosion, waterproof, equipped with flushing, hand washing, and disinfecting systems.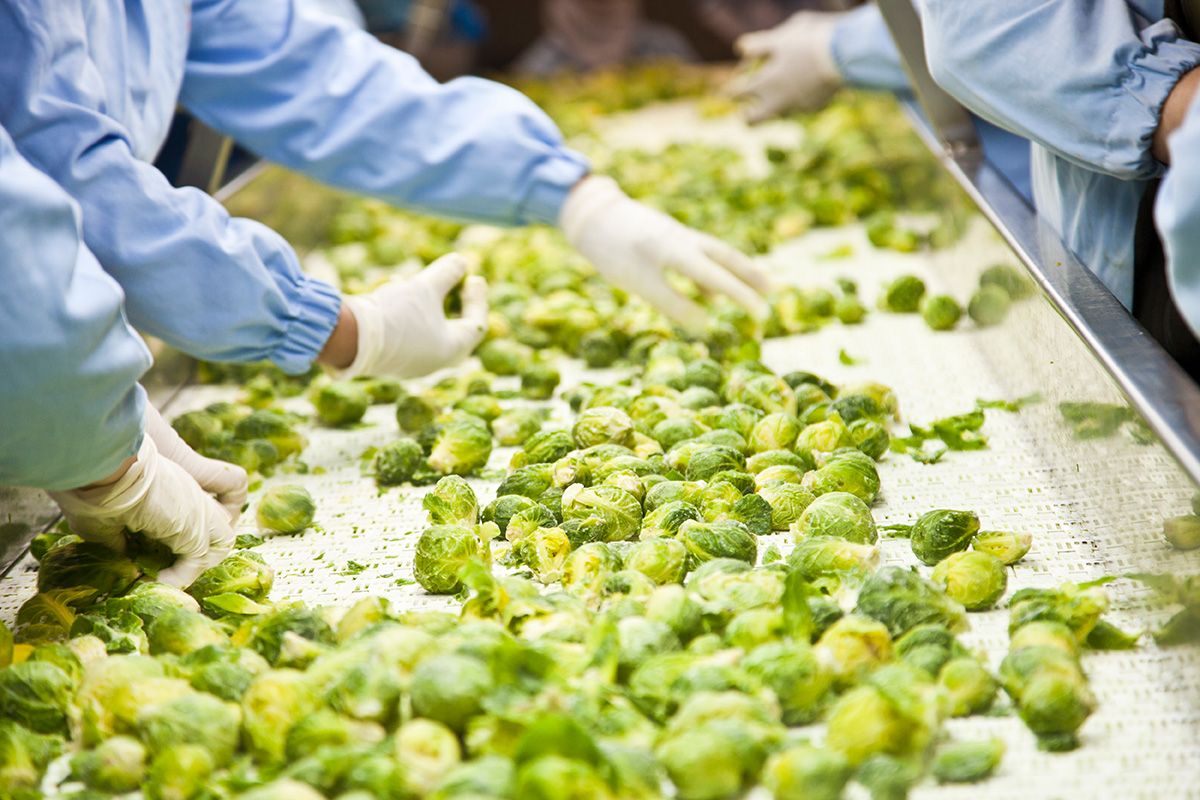 6. Storage area design
Raw material area
Warehouses for storing raw materials and auxiliary materials must ensure that the quality of raw materials and auxiliary materials prepared for production and processing does not change in the quality and cause harm to safety. Cleanliness, hygiene, and prevention of harmful animals are basic requirements for the storage of raw materials/ingredients for food factories.
The place to store fruit and vegetable materials also needs to be shaded from the sun, rain and ventilated. In addition, in areas with higher temperatures, a dedicated fresh food storage facility is required.
Packing material area
Food manufacturing plants should establish special storage facilities for the storage and storage of packaging materials. The warehouse must be clean and dry, have means of preventing flies, flies, and rats, and the inner and outer packing materials must be separated from each other.
Keep a certain distance between the material and the ground and the wall, and use dust covers.
Finished products warehouse area
The size and capacity of a food factory's finished product storage facility should be appropriate to the plant's production operations and should be equipped to ensure that the finished product maintains a stable quality and is free from contamination. during storage. Warehouses for storing finished products should be equipped with means to prevent entry of insects, rats, and birds. The construction materials of the cold storage must meet the requirements of the relevant national material regulations. Automatic temperature gauges must be installed in cold storage and (normal) temperature storage for exported products.
Vietnam Cleanroom Equipment (VCR) specializes in providing cleanroom equipment for construction contractors. We provide high-quality products with competitive prices and large quantities nationwide. The equipment includes:
Differential pressure gauge, FFU Fan Filter Unit, Pass box, Clean room air filter, HEPA box, Clean booth, cleanroom steel door, Isolator cabinet, and other equipment
For details, please refer to Vietnam cleanroom equipment official website
https://en.vietnamcleanroom.com