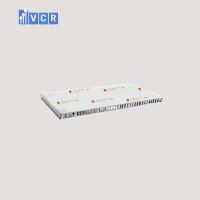 Aluminum Honeycomb Panel
Aluminum honeycomb core is made of multi-layer aluminum foil expanded into a regular honeycomb shape. The factors affecting the property of the honeycomb core
Aluminum honeycomb core is made of multi-layer aluminum foil expanded into a regular honeycomb shape. The factors affecting the property of the honeycomb core material such as aluminum foil, noodle glue and honeycomb core specifications. As the most important material, aluminum foil has a great influence on the quality and service life of the honeycomb core.
Aluminum honeycomb panel, bottom plate and panel, mainly use high quality 3003-H24 or 5052-H14 alloy aluminum plate, the thickness of aluminum plate is between 0.4mm-3.0mm.
The aluminum honeycomb core material adopts a hexagonal honeycomb core made of 3003 aluminum foil, the thickness of the aluminum foil is 0.02 to 0.06mm, and the aluminum honeycomb side length is 5mm, 6mm, 8mm, 10mm, 12mm etc.
Features:
- Light weight, high strength, good rigidity, high flatness and no deformation;
- Good heat absorption, heat insulation, insulation effect;
- Good sound absorption, sound insulation, noise reduction effect;
- The honeycomb core material contributes to the insulation and sound absorption effect of the space;
- Outstanding fire prevention and shockproof functions;
- Stable structure, high pressure resistance;
- High-quality materials and advanced processing technology to ensure product durability;
- Simple and flexible installation and maintenance, reducing construction and maintenance costs;
- Easy to install, excellent custom processing capabilities to meet the individual needs of customers.
Minium order quantity: 1000 m²
TECHNICAL PARAMETERS
Name

Specification

Effective Width

1150 mm

Thickness

50-150 mm

Length

As design requested

Typical Alloy
3003 aluminum foil
Surface Material
H14, H18, H24
 
Thickness Of The Aluminum Foil
0.02 to 0.06mm

Steel Thickness

0.376 mm, 0.426 mm, 0.476 mm, 0.526 mm