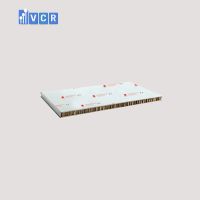 Fiberglass Sandwich Panel
Honeycomb Sandwich Panel has the advantages of low cost, less material consumption, sound absorption and heat insulation, high strength and good impact resistan
Honeycomb paperboard is an environmentally-friendly and energy-saving material with a new sandwich structure made up of high-strength honeycomb paper core and various high-strength kraft paper. The utility model has the advantages of low cost, less material consumption, sound absorption and heat insulation, high strength and good impact resistance.
Features:
1. Light weight, less material and low cost.
Honeycomb sandwich structure has the highest strength-to-weight ratio compared with other various plate structures, so the performance/price ratio of the finished product is good, which is the key to the success of honeycomb paperboard. The density of ordinary honeycomb paperboard is about 30~50 kg/m³, which is 1/3 of the density of the universal corrugated board.
2. High strength, smooth surface and not easy to deform.
The honeycomb sandwich structure is approximately isotropic, structurally stable, and not easily deformed. Its outstanding pressure resistance and bending resistance are important characteristics required for box packaging materials.
Ordinary honeycomb paperboard can withstand a pressure of 2-5kg per square centimeter, which is 5~10 times of the compressive capacity of ordinary corrugated board. The bending strength of ordinary honeycomb paperboard is 2 to 5 times that of corrugated cardboard, which is 5 to 30 times that of ordinary corrugated cardboard.
3. Good impact resistance and cushioning.
Honeycomb paperboard is made of flexible paper core and paper, with good toughness and resilience. The unique honeycomb sandwich structure provides excellent cushioning performance and higher energy absorption per unit volume in all cushioning materials.
4. Sound absorption and heat insulation.
The interior of the honeycomb sandwich structure is a closed chamber filled with air, so it has good sound insulation performance.
5. No pollution, in line with the trend of modern environmental protection.
The honeycomb paperboard is made entirely of recyclable paper, which can be replaced by wood, instead of EPS plastic cushioning pad, which can be recycled and reused after use.
Therefore, even if it is discarded, it can be naturally degraded and absorbed, and it is a good green environmental protection material.
Minium order quantity: 1000 m²
TECHNICAL PARAMETERS
| | |
| --- | --- |
| Name | Specification |
| Effective width | 1150 mm |
| Thickness | 50-150 mm |
| Density | 30 - 50 kg/m³ |
| Length | As design requested |
| Surface Material | Galvanized , Stainless steel, Zinc aluminum steel |
| Steel Thickness | 0.376 mm, 0.426 mm, 0.476 mm, 0.526 mm |