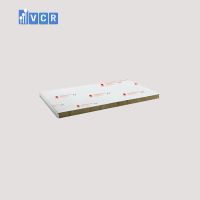 Rock Wool Sandwich Panels
Rock wool panels allow builders to design the right acoustic environment for each space, whether it's a workshop, concert hall, air clean room, or residential
The Rock wool sandwich panel insulation stone wool is made from rock, making it naturally durable and stable over the lifetime of a building. As the unique physical structure, rock wool panel is not affected by changes in temperature or humidity. This means the owner can create a pleasant and stable temperature year after year, while saving energy and money for cooling/heating.
Features:
Have you ever seen rock burn? Neither have we. Rock Wool Panel Products are rated Non-combustible. Basalt stone wool adopted to Sandwich Panels is fire-protecting insulation material, it's fibres' resistance to high temperatures, will limit the buildings to fire or spread. Using Rock wool sandwich panel will improve the building's fireproof performance, protect life and property safety.
Sound is tough to get through rock. Rock wool sandwiched panels are the most effective acoustic insulation used in construction. Installing Rock wool panel provides a real reduction in external noise, our rock wool panels allow builders to design the right acoustic environment for each space, whether it's a workshop, concert hall, air clean room, or residential house.
Minimum Order Quantity: 1.000 m²
TECHNICAL PARAMETERS
| | |
| --- | --- |
| Name | Specification |
| Density of rockwool | 80-120 kg/m³ |
| Effective width | 1150 mm |
| Thickness | 50-150 mm |
| Length | As design requested |
| Surface Material | Galvanized , Stainless steel, Zinc aluminum steel |
| Steel Thickness | 0.376 mm, 0.426 mm, 0.476 mm, 0.526 mm |