Monday, 11/07/2022 | 11:22
HEPA Filter Terminal Box Installation Precautions
1. The first important point before installation is that the size and efficiency requirements of HEPA filter terminal box must meet the requirements of cleanroom design and customer's demands. 2. Before installing the HEPA filter terminal box, you need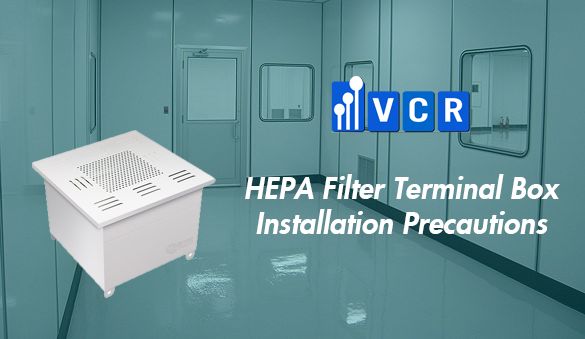 VCR - Vietnamcleanroom bring to you some tips to install HEPA filter terminal box:
1. The first important point before installation is that the size and performance of HEPA filter terminal box must meet the cleanroom design requirements and customer's demands.
2. Before installing the HEPA filter terminal box, you need to clean and sterilize the product and clean room. For example, the housing, the frame and the grill should be cleaned to remove all traces of dust and debris. It is important to clean the ceiling too. The air conditioning system must be re-purified and carried out more than 12 continuous hours in trial operation, and then cleaned again.
3. The safe transportation of HEPA box must be followed strictly in accordance with manufacturer's directions. During transportation, it must avoid vibration and collision
4. Before installation, HEPA box should be checked on site: whether the filter paper, sealant and frame are damaged, whether HEPA box dimensions meet cleanroom standards, whether product certificate and technical performance meet the design requirements.
5. During installation, some adjustments should be made according to the resistance of each HEPA box. For laminar flow, between each filter on the same HEPA box, the difference between the nominal resistance and the average resistance of each station should be less than 5%.
The HEPA box is suitable for cleanrooms with a cleanliness level equal to or higher than class 100 cleanrooms.
6. The cleanroom needs to be installed with HEPA filter terminal box. The joints between the flanging of HEPA box and the ceiling plate shall be gasketed.
Avoid HEPA box or coating damage.
HEPA filter terminal box and air duct must be connected tightly, and the open end shall be reinforced with plastic film and tape for airtight treatment.
The above precautions must be carefully followed because a slight error could directly affect the entire cleanroom cleanliness standard.
Vietnam Cleanroom Equipment (VCR) specializes in providing cleanroom equipment for construction contractors. We provide high-quality products with competitive prices and large quantities nationwide. The equipment includes:
Differential pressure gauge, FFU Fan Filter Unit, Pass box, Clean room air filter, HEPA box, Clean booth, cleanroom steel door, Isolator cabinet, and other equipment
For details, please refer to Vietnam cleanroom equipment official website