Monday, 11/07/2022 | 10:40
How to choose the right doors for cleanroom?
Cleanroom doors play an important role in the cleanroom. Its function is
Doors come in many models, shapes, and sizes, so it's not easy to choose the right ones for your cleanroom.
Cleanroom doors play an important role in the cleanroom. Its function is "sealing" the controlled environment. If it does not function well, the inner environment will be totally contaminated.
Here are 10 pointers on how to match cleanroom doors to customer needs, based on our several years of experience in cleanroom technologies.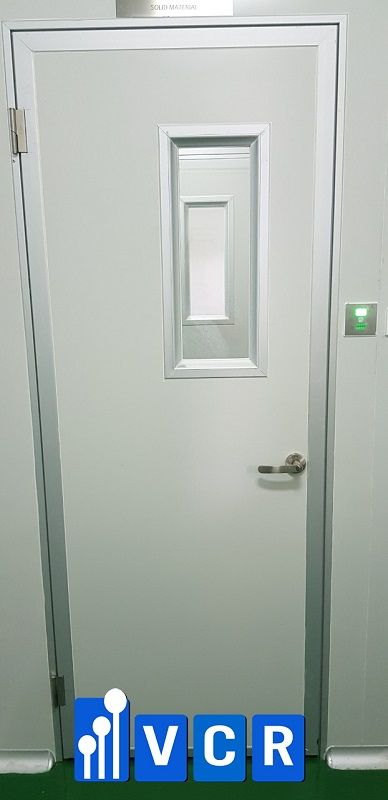 1. Smooth and flat surface
The cleanroom door should be flat on both sides. Without the edges, doors are easily cleaned, anti-dust. The ideal door is the one with a window that fits the cleanroom wall perfectly.
2. Easy to install
Pay attention to the mix-match of doors and the rest of the room. Many door manufacturers can only activate the doors on their system they install themselves. This makes it difficult for the customers to replace any equipment that is not produced by the manufacturer. If it is done intentionally, it could harm the integrity of the cleanroom environment. In Viet Nam, the manufacturers have to customize the cleanroom doors according to customers' orders, therefore they can achieve the quality that customers need.
3. Panels must be thick enough
Cleanroom doors are made of panel, able to withstand, flameproof, heat insulated. Door thickness from 40mm is qualified to perform necessary functions in industrial field. Aluminum alloy is selected as the outer material to increase the endurance of the panel door.
4. Sealing performance
Which level of sealing is suitable for panel doors? 3.5 m2/hm2 at 200Pa is a good number. Some doors are equipped with rubber seals or double-layer seals in order to increase sealing performance.
5. Cleaning chemicals resistant
Cleanrooms are sterilized daily with chemicals to ensure that a controlled environment can be absolutely maintained. Cleanroom doors, like any other cleanroom surface, should be chemically resistant for quality and durability maintenance.
6. Safety
In cleanroom field, safety is a priority. Therefore, all structures and accessories must meet certain safety standards. Some of the major manufacturers even use tempered glass, which means that even if a single sheet of glass is broken, they are able to maintain the position without breaking into small pieces.
7. Antistatic surface
The anti-static surface will prevent the door from absorbing dust particles into the surface of the door. To ensure hygiene for cleanrooms, all surfaces in cleanrooms are required to have antistatic capabilities.
8. High-quality accessories
Not only the surface of the door but other parts like panel door lock, aluminum accessories also are required to have the best quality for durability maintenance.
9. Door lock system
If there is an electrical system problem, the mechanical lock is required to do the job as well as the electric lock. That the door automatically opens when a button is pressed and closes itself after passing is very convenient. Especially, the interlock is capable of opening and closing each door, avoiding cross-contamination between two areas.
10. Warranty and after-sales services
When 9 factors above have been met, considering a supplier is the next step and also the most important. Whether it's a small company or a large company, please carefully consider their warranty and after-sales service before making a choice, to make sure that if you run into problems after a period of use, the customer can get help from a provider. It is necessary because the customer does not have to replace the entire door at a large cost, but only need to repair the damaged part.