Tuesday, 12/07/2022 | 09:19
Important things to know about clean room testing
Cleanrooms require monitoring and testing to ensure that contamination levels are within acceptable limits. What do these tests involve?  In order to ensure that your clean room is working effectively, a number of factors relating to air supply need to be
Cleanrooms require monitoring and testing to ensure that contamination levels are within acceptable limits. What do these tests involve?
In order to ensure that your clean room is working effectively, a number of factors relating to air supply need to be tested. These tests apply to every type of cleanroom, whether used for the manufacture of pharmaceutical products, sterile and aseptic production, nuclear medicine, gene and cell therapy, and whether it uses a unidirectional or non-unidirectional air flow system.
We will need to test the quantity of air to ensure that there is enough to dilute or remove any contamination generated within your cleanroom, and we will test the quality of the air to ensure that it is not adding to any contamination, rather than removing it.
We also need to test the flow of the air to ensure that it is moving from clean to less clean areas, minimizing the movement of any contaminated air into your clean area, and to sure there are no areas of the room with high concentrations of pollutants.
In order to carry out these tests, for every cleanroom we are working in, we will measure and check:
1. Air supply and extract quantities
If your air supply is unidirectional, the air velocity will be measured, while for non-unidirectional systems, the air supply will be measured.

2. Differential pressure
Differential pressure will be tested to ensure that the air in cleanroom always moves from clean to less clean areas, with cleanroom having a higher pressure than adjacent less clean areas.
3. Filter installation leak testing
FFU with HEPA filter will be tested with DOP (Dispersed Oil Particulate) to ensure their integrity
4. Containment leak testing
The construction of clean room will be checked to ensure that no airborne contamination can occur via leaks from higher pressure areas adjacent to it
5. Air movement control
Studying the movement of the air within clean room, the clean room will be checked that there is sufficient air movement to dilute or remove pollutants, preventing any contamination build-up
6. Room recovery
After reviewing the effectiveness of airflow, the tester will measure how quickly a clean room recovers to its normal operating cleanliness following a release of particulate contaminant.
7. Airborne particles and microbial concentrations
Measurements will be carried out to ensure that the concentration of particles and micro-organisms is compliant with the specification set out for your clean room.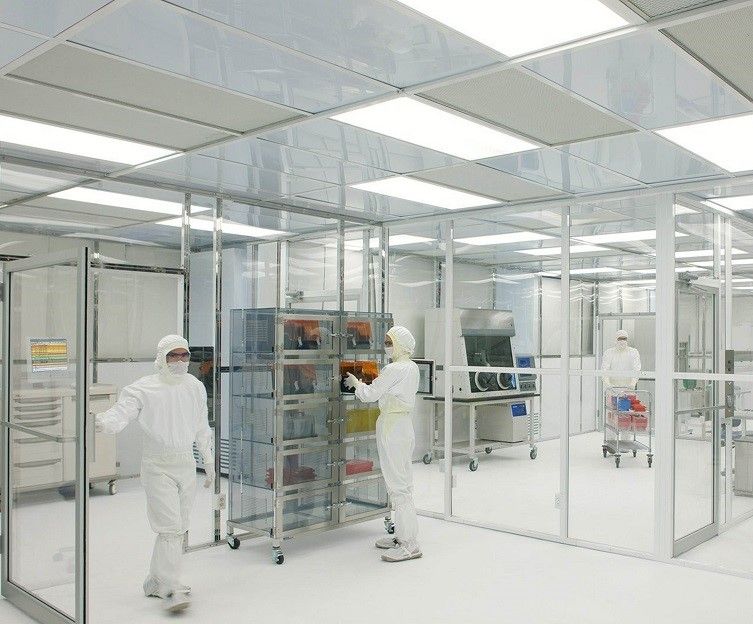 Vietnam Cleanroom Equipment (VCR) specializes in providing cleanroom equipment for construction contractors.
We provide high-quality products with competitive prices and large quantities nationwide. The equipment includes:
Differential pressure gauge, FFU Fan Filter Unit, Pass box, Clean room air filter, HEPA box, Clean booth, cleanroom steel door, Isolator cabinet, and other equipment