Tuesday, 12/07/2022 | 10:26
Insulation panel types for cleanroom
Here are some following essential terms that help us understand the insulation material: Coefficient of thermal conductivity (K): K-Value denotes the thermal conductivity of a material that helps to measure the ability to conduct heat. When the K-value is
Insulation panel is a critical component in cleanroom construction. The availability of varied insulation panel materials for building cleanrooms makes it challenging to understand and make a choice. This article will provide the basics of insulation panel types for cleanrooms in order to help customers choose the ideal cleanroom insulation panel option.
Insulation is a material that prevents the transmission of electricity, heat, moisture, shock, or sound from one item or medium to another. The primary use of insulation is to avoid heat transfer from the outer unclassified area to an inner classified area.
This insulation is core to HVAC. When designed with the right materials for areas with space restrictions (Modular Panel Cleanrooms) where you need temperature/ humidity control precision with specific airflow, HVAC ensures the prevention of heat loss and results in the efficient and effective use of energy.
Terms related to insulation properties
Here are some following essential terms that help us understand the insulation material:
Thermal conductivity (K-value): K-value denotes the thermal conductivity of a material that helps to measure the ability to conduct heat. When the K-value is lower, the insulation is considered to be better.
Thermal transmittance (U-value): The rate of transfer of heat (in watts) through one square meter of a structure divided by the difference in temperature across the structure. When the U-value is lower, the insulation is considered to be better.
Thermal resistance (R-value): This can be denoted by the thermal resistance of insulation against the conductive flow of heat. And the insulation is better as the value of R goes higher.
Cleanroom insulation panel depends on its varied usage.
Types of insulation panels performance
A substantial range of insulation panels available includes:
1. EPS (Expanded Polystyrene) panel
EPS is a lightweight foam-like plastic material made out of beads of polystyrene.
It is the most economical and environment-friendly option used for manufacturing Cleanrooms Panels.
EPS panel offers an average density of 20 kg/m3, making this is one of the lightest insulation, low weight panel, easier for installation having a K value of 0.033, R-value of 3.85 per inch.
Although it provides good insulation, a significant disadvantage of EPS panel is that it is not fire-resistant. Hence, it is not ideal for cleanrooms where flammable material will be stored.
2. Honeycomb panel
Thermoplastic honeycomb panels are structures that are inspired by nature.
This hexagon structure offers essential features in its physical properties such as excellent compressive strength, impact resistance, and lightness, with a density of 60 kg/m3 and an R-value of 3 per inch and K-value of 2.37.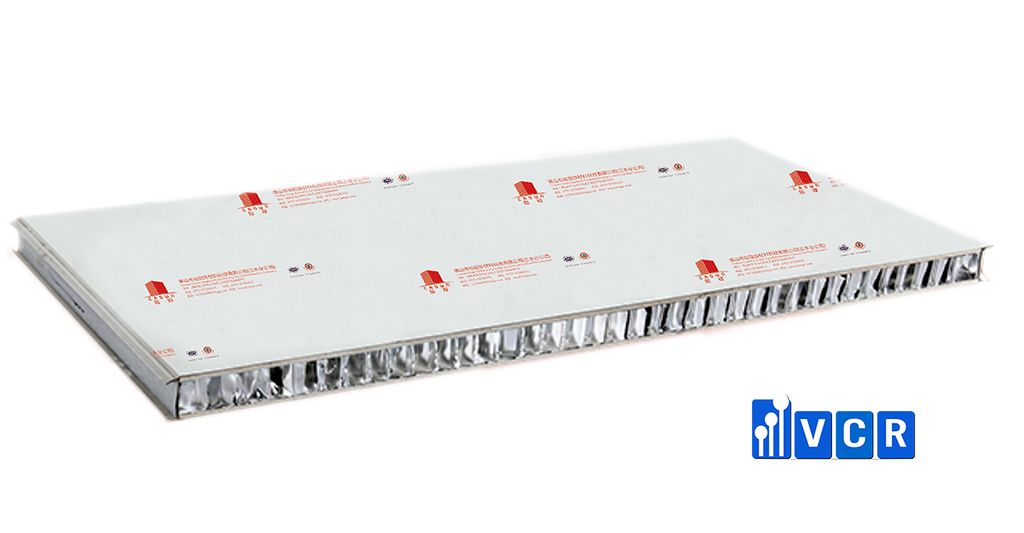 3. PUF (Poly Urethane Foam) panel
PUF is a stiff foam of a chain of polymer units linked by urethane.
It is the most commonly used insulation material in the industry that offers a balance of thermal insulation property as well as low weight and economical options.
It has a density of 42 kg/m3, and K-Value of 0.021, R-Value of 5.6-7 per inch.
4. PIR ( Poly Isocyanurate) panel
Due to recent developments in insulation material, there has been an immense interest in PIR as its density is around 30 kg/m3. Also, its R-Value is 5.6-7 per inch, and K-Value is 0.021, making it a lighter option against PUF.
Moreover, the temperature resistance is beyond 200*C makes it a high-performance insulation material over PUF.
5. Rockwool panel
A mineral-based fiber mass that can be highly resistant to temperature variations. Rockwool panel has a density of 48 – 160 kg/m3, and K-Value of 0.035, and R-Value of 3.3 per inch.
6. Magnesium oxide panel
Magnesium oxide panel is the most desirable option that offers multiple advantages of sound, thermal, and fire resistance.
The magnesium oxide panel has a density of 300 - 900 kg/m3. Magnesium oxide panel is A1-rated product that is completely non-combustible.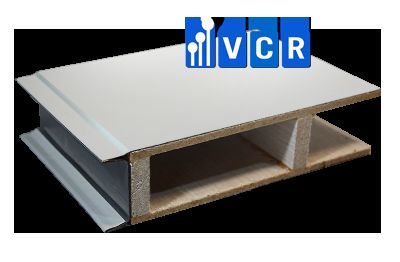 The above information on the various insulation materials emphasizes the most important component of each insulation material - its performance. However, insulation panels should be chosen based on the cleanroom's purpose and project design.
Cleanroom panels thickness
The thickness of the modular panel is the next criteria to consider. The higher the thickness, the higher the insulation properties. This means a thicker PUF will offer a similar impact as a thin Rockwool Panel.
However, during the designing stage, utilization of space and cost of the project plays an essential role in determining the best material for cleanroom. When choosing the insulation material, other factors including tensile strength, compressibility, and resistance should be considered.
To sum up, successful insulation panel selection for cleanrooms is complicated due to a variety of options available, and this requires a better understanding of customer requirements and the processes that will be carried out in the cleanrooms.
Vietnam Cleanroom Equipment (VCR) specializes in providing cleanroom equipment for construction contractors. We provide high-quality products with competitive prices and large quantities nationwide. The equipment includes:
Differential pressure gauge, FFU Fan Filter Unit, Pass box, Clean room air filter, HEPA box, Clean booth, cleanroom steel door, Isolator cabinet, and other equipment
For details, please refer to Vietnam cleanroom equipment official website