Tuesday, 12/07/2022 | 16:17
What is PUF panel?
PU panel is one of the most widely-used materials for cleanrooms, workshops. What is PU panel? This article will help you find the answer. Let's find out!  1. What is PU
PU panel is one of the most widely-used materials for cleanrooms, workshops. What is PU panel? This article will help you find the answer. Let's find out!
PU panel (or PUF panel - polyurethane foam panel) is a kind of sandwich panel with the core made of Polyurethane, which is placed between two metal sheets. PU panel is 50-200 mm thick.
A sheet of PU panel normally has a width of 1000 - 1700 mm, and a length of 1200 - 6000 mm. PU panels are available in different sizes depending on customers' requirements.
Panel joints are shaped to guarantee high tightness, ease of installation, and the possibility of application additional sealing during installation.
PUF panels can be used as interior or exterior walls, doors, ceilings, and roofing materials. This kind of panel is one of the most preferred ones in the construction of various structures such as cold storage, production lines, warehouses, and cleanrooms.
PU panel structure
PU panel is made of 3 layers. The interior and exterior layers are made of galvanized steel sheets, which is antioxidant, antimicrobial, and 0.3 - 0.5 mm thick. The thickness of the layers is different based on the requirements of particular projects.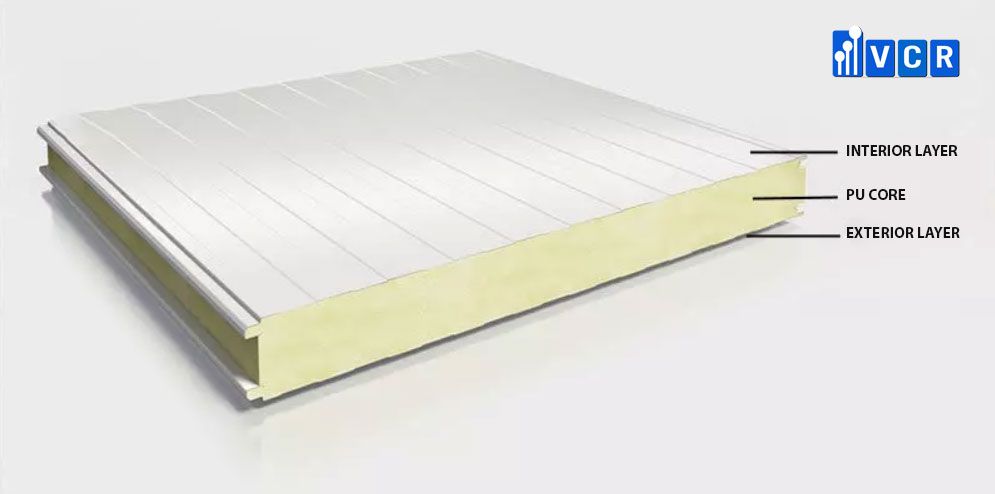 The core of PU panel is Polyurethane foam, which is thermal insulated and soundproof. Today, there are 2 core types of PU:
Polyurethane core: The density is around 40 kg/m3. It has good thermal insulation properties depending on the density of PU
Polyisocyanurate core (PIR): The density is more than 40kg/m3 with ver high fire resistance properties. PIR panels are widely applied in the construction of projects with stringent fire protection requirements.
PU panel specification
- Standard dimension:
Width: 1150 mm
Length: According to customer's request
Thickness: 50 -150 mm
Interior and exterior layer thickness: 0.376 mm, 0.426 mm, 0.476 mm, 0.526 mm
PU density: 35 - 40 kg/m3
- Interior and exterior layer material:
PET color coated steel
Galvanized steel
Stainless steel
- Core: Polyurethane foam (PUF)
Viet Nam is a tropical country. Traditional wall materials like wood, plastic, or iron are easily oxidant, warping,...PUF panel can overcome these disadvantages.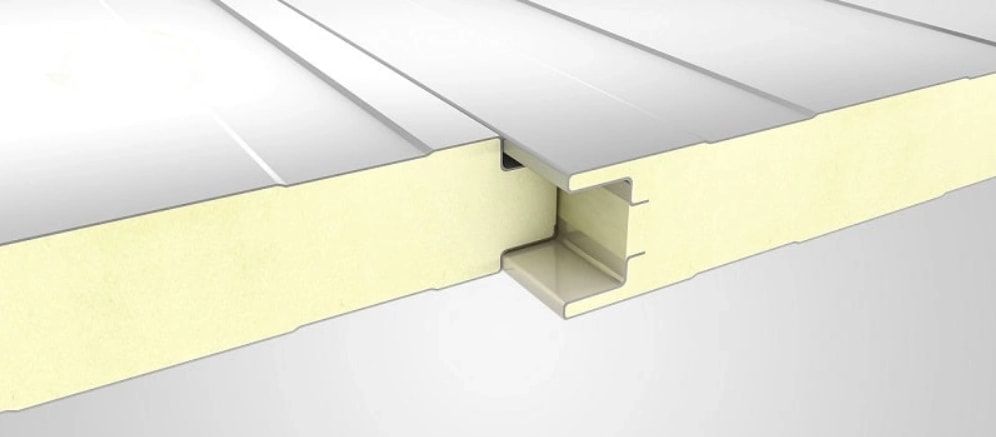 Below are outstanding advantages of PU panel:
Soundproof
Energy-saving, environmental-friendly
Excellent thermal insulation performance
Good waterproof performance
Simple and fast construction (The polyurethane sandwich panel is prefabricated in the factory, so it can be directly used for construction without additional processes)
Lightweight and durable
Weather resistance
Good aging resistance (According to research tests, the aging resistance of polyurethane foam can be as long as 30 years)
Support GMP (Good Manufacturing Practice) and HACCP standards
At temperatures below 10*C, the foaming ratio of the polyurethane foam decreases.
If PUF panel is used for roof, the flatness of eaves and gutters is not so good that they can affect the drainage flow rate. Therefore, it needs to be used in conjunction with other waterproof materials.
For projects such as clean rooms, cold storage, factories, etc., which have high requirements for isolation from the external environment and for stable temperature. PU panel is a preferred option
The following projects often prioritize the installation of PU panels
Cleanroom
Cleanroom is an area that is controlled by factors: amount and size of dust particles, pressure, temperature, cross-contamination, humidity... to create a clean environment. When these factors are controlled, the cleanroom environment will minimize the risk of infection and cross-contamination, especially dust will be filtered at the concentration and size according to the required parameters.
Therefore, a cleanroom needs to be completely enclosed, ensuring sterility, without harmful particles. Therefore, using PUF panels to build cleanroom walls is essential for good isolation. This will help bring the best results for research, manufacturing, and preservation.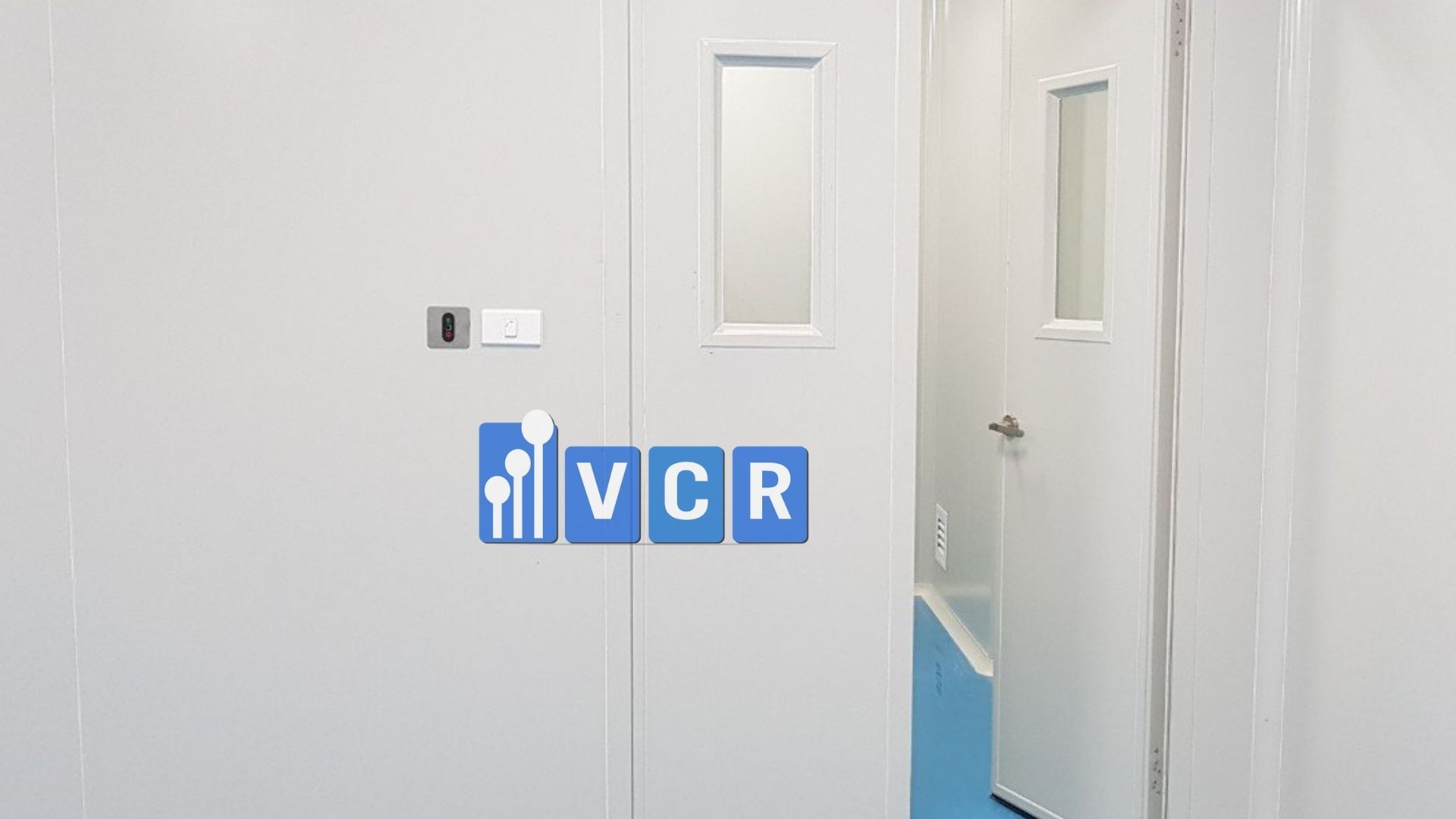 Cold storage
Cold storage is a specialized room for storing food and other goods. The special structure of the cold room is thermal insulated, moisture insulated. The temperature inside cold storage is lower than the outside temperature. Using PU panel for cold storage walls will help completely prevent temperature loss to ensure the room temperature is always stable within the required level.
Electronic equipment factories, cosmetic factories, and hospital operating rooms
These are environments with high requirements for temperature stability, cleanliness and safety. PU panel with absolute tightness will keep the temperature stable and prevent bacterial contamination and penetration, affecting the quality of the product.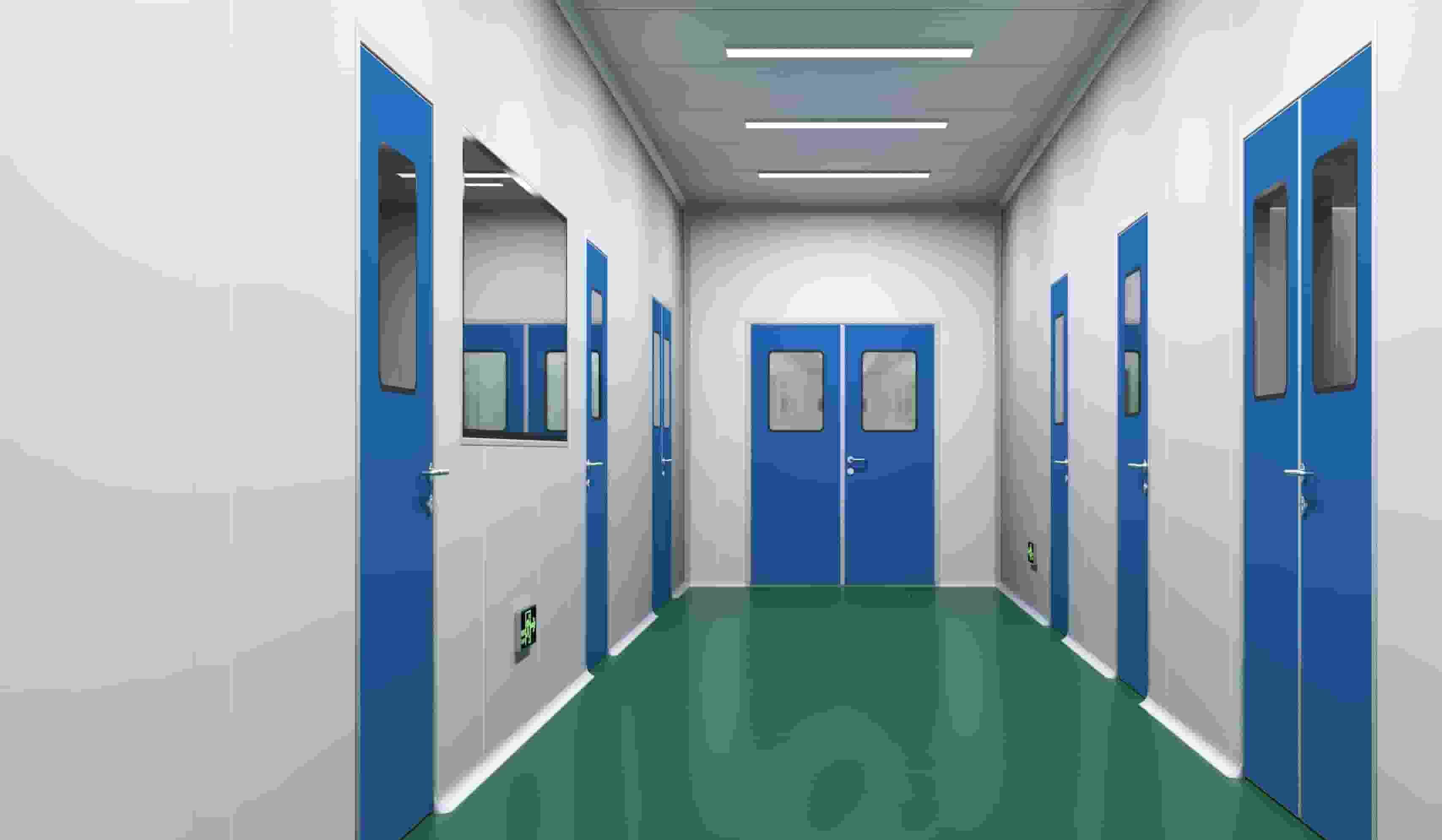 These are the basics you should know about PU panel (or PUF panel). Hope you find it helpful!
Read more: Magnesium oxide panel
Vietnam Cleanroom Equipment (VCR) specializes in providing cleanroom equipment for construction contractors.
We provide high-quality products with competitive prices and large quantities nationwide. The equipment includes:
Differential pressure gauge, FFU Fan Filter Unit, Pass box, Clean room air filter, HEPA box, Clean booth, cleanroom steel door, Isolator cabinet, and other equipment