Tuesday, 12/07/2022 | 16:52
What is insulated sandwich panel?
Insulated sandwich panel is a popular material in the construction of factories and cleanrooms,... So what is an insulated sandwich panel? What special features does it have? Let's find out with VCR! 1. What is an insulated sandwich panel?  An insulated
Insulated sandwich panel is a popular material in the construction of factories and cleanrooms,... So what is an insulated sandwich panel? What special features does it have? Let's find out with VCR!
1. What is an insulated sandwich panel?
An insulated sandwich panel is a common material in construction with effective sound insulation, heat insulation, and heat resistance.
Some popular insulated sandwich panels are EPS panel, PU panel (polyurethane panel), glass wool panel, and rock wool panel…)
This material is composed of 3 layers including:
2 layers made of galvanized cold corrugated iron
A layer made of EPS foam, PU foam, rock wool foam, glass wool
The two outer layers are corrugated iron with various colors bringing high aesthetics. The middle layer can be used with polyurethane foam, EPS foam, and glass wool with excellent fire, and sound insulation.
In general, insulated sandwich panels have many different thicknesses and densities. The color is optional. The size of the insulated sandwich panel is customized according to the customer's request.
All panels have yin and yang edges. Therefore, we only need a few panel accessories to be able to assemble. The construction stage is therefore carried out quickly, saving a lot of time and money.
2. Advantages of insulated sandwich panel
The biggest advantage of insulated panels is definitely the excellent insulation performance. With a very low heat transfer coefficient of 0.018 – 0.020 Kcal/m/oC, this material can reduce heat and can be non-flammable, and withstand high temperatures (up to 120 °C) for a long time (15 ~ 20 minutes).
In addition to the outstanding advantage of thermal insulation, this type of panel also has other features as follows:
Outstanding soundproof, fireproof, and heat-retaining properties
High durability, easy construction and installation
Ensure safety against breaking
Low cost, low labor cost for construction and installation
Can be reused and changed texture if desired
High aesthetics, many different colors
3. Insulated sandwich panels classification
Insulated sandwich panels are classified based on the core material in the middle layer of the product.
And currently, on the market there are 4 main types of insulated panels:
Rockwool panel (mineral wool panel)
EPS panels
PU panels.
Magnesium oxide panel
1. Rock wool panel
Mineral wool panel (also known as rock wool panel) is a material produced from synthetic glass fibers made from rock, clay, slag, etc.
In terms of the main chemical composition, mineral wool is produced from rock ore. Basalt and Dolomite are melted at high temperatures. Cotton fibers are pressed into sheets, rolls, and tubes with heat and sound insulation capabilities.
Products from mineral wool can withstand heat up to 850°C.
The surface of upper and lower layers:
Made of color-coated, galvanized sheets with a thickness of 0.4-0.8mm.
Based on the specific requirements of customers, color coated corrugated iron sheets or galvanized corrugated iron sheets can be used.
The corrugated iron sheet is initially put through a rolling mill, rolled into shape, and then transferred to a mineral wool factory to be assembled into products.
Mineral wool core layer:
Made of mineral wool with a density of 120kg/m3.
Mineral wool fibers run perpendicular to the top and bottom surfaces of the panel, and at the same time are tightly connected, and are tightly inserted into the entire panel vertically and horizontally.
The mineral wool sheets together and between the mineral wool sheet and the corrugated board above and below are linked together into a complete block through high-strength foaming glue.
Using sophisticated production technology, ensuring high-density mineral wool insulation with the inner surface of metal sheets with very good adhesion. Thus, the mineral wool panel has a very high hardness.
2. PU panel
PU panel is a 3-layer material similar to glass wool panel. However, the core material in the middle layer is polyurethane (PU).
The structure of PU panel includes:
The outer layer is galvanized steel with diverse colors. This layer of corrugated iron has a thickness from 0.4mm to 1.0mm.
The middle layer is PU foam, which is fire resistant. PU foam has perfect insulation coefficient from 0.019W/m.k – 0.020W/m.k
Read more: What is PUF panel?
3. EPS panel
EPS panel is the most common type of product on the market today. EPS panel is suitable for all projects thanks to its low cost.
The general structure of EPS panels is as follows:
Standard density from about 15 – 16kg/m3
Sheet thickness from 50 to 225mm
Standard length from 2 to 8m. Non-standard sizes can be ordered on request.
Heat transfer coefficient is stable in the range of 0.035 Kcal/m.h.oC
Compression force: P=3.5kg/cm2
Absorption coefficient: 710 mg/m2.s
4. Oxide magnesium panel
Magnesium oxide panel has a melting point of 2852 degrees Celsius, which is a stable magnesium-binding material made up of 3 components: magnesium oxide, magnesium chloride, and the water determined in a given ratio.
Magnesium oxide panel is a new type of non-combustible material that uses Alkaline fiberglass mesh as reinforcement, and light materials as a composite core.
This product is processed by special production technology and has characteristics such as flame retardant, waterproof, tasteless, non-toxic, non-freezing, non-corrosive, non-cracking, non-deformation, non-flammable, and long service life.
Read more: Top 4 things you should know about magnesium oxide panel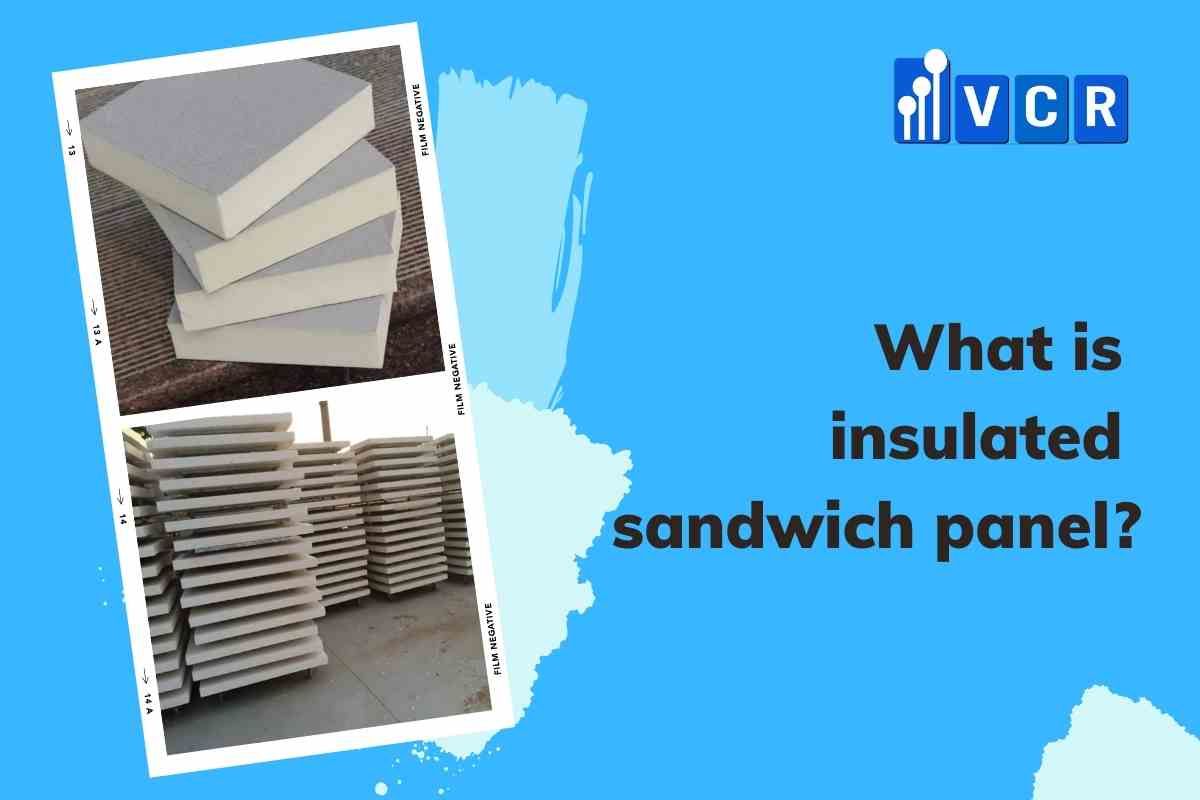 Vietnam Cleanroom Equipment (VCR) specializes in providing cleanroom equipment for construction contractors.
We provide high-quality products with competitive prices and large quantities nationwide. The equipment includes:
Differential pressure gauge, FFU Fan Filter Unit, Pass box, Clean room air filter, HEPA box, Clean booth, cleanroom steel door, Isolator cabinet, and other equipment