Tuesday, 12/07/2022 | 17:00
Dispensing Booth: Definition, Specifications & More
1. What is dispensing booth? Dispensing booth is a kind of purifying equipment for materials sampling, weighing, and analysis. Dispensing booth prevents the operators from powder contamination, thereby providing a safe and clean working environment.
1. What is dispensing booth?
+ Dispensing booth is a kind of purifying equipment for materials sampling, weighing, and analysis.
+ Dispensing booth is also called a sampling booth, a weighing booth, a downflow hood, RLAF (reverse air flow), or a powder containment booth.
+ It uses the laminar airflow technique with the aim of providing dust containment and operator protection while filling, weighing, sampling harmful components, active ingredients and raw powder materials.
+ Dispensing booth provides a unidirectional airflow (laminar airflow), in which most of the clean air enters the working zone.
Only a small amount of the air is discharged to the ambient environment, which creates negative pressure in the working zone, thereby providing a safe and clean working environment, preventing the operators from powder contamination.

2. Why do we need a dispensing or weighing booth?
+ Dust, especially dust generated during the production process can be toxic. If dust is not filtered and controlled, it not only causes environmental contamination but also threatens workers' health and safety.
+ In the pharmaceutical industry, the manufacture of drugs can generate hazardous dust, especially when weighing, dispensing materials in powder form. Therefore, dispensing booth is important. As a result, it is also called a pharmaceutical (powder) weighing booth, or pharmaceutical sampling booth.
3. Dispensing booth structure
Dispensing booth has a stainless steel structure with main components including pre-filter (10 micron), fine filter (3 micron), HEPA filter (0.3 micron), differential pressure gauges (for the pre-filter, fine filter and HEPA filter), lamp, fan, SOP/DOP ports, power sockets
Please refer to the drawing below for a better understanding of dispensing booth structure: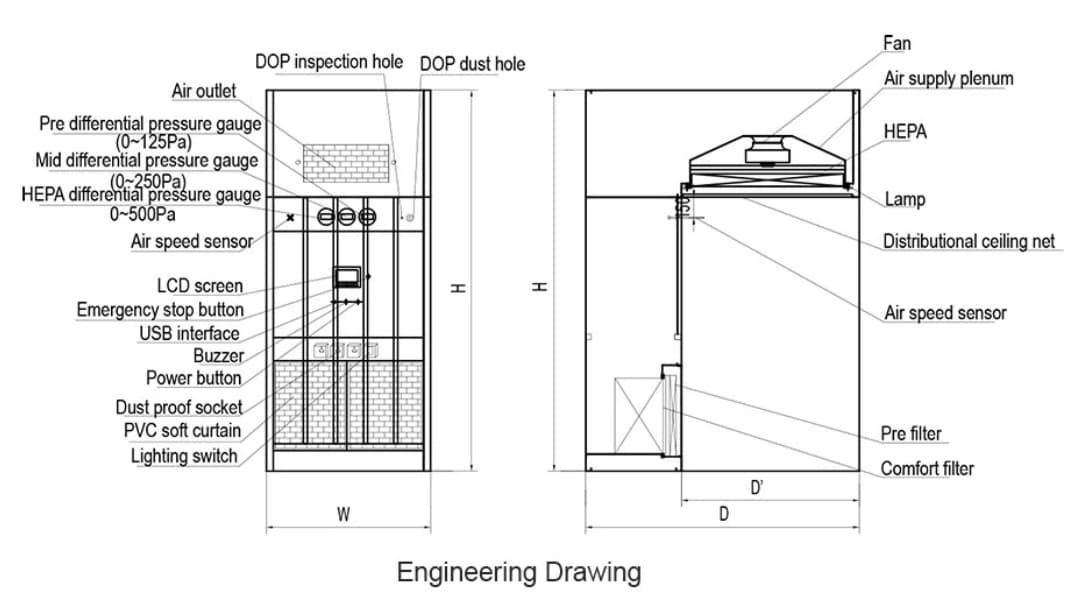 4. Dispensing booth working principle
+ The fan will suck and pull the air to HEPA filter (H14 HEPA filter), which captures the dust and particles. The HEPA-filtered air will be distributed in unidirectional form into the working zone.
The downflow of air will carry the dust generated during powder processing into a pre-filter. After pre-filtered, the air will go through a fine filter (F8 filter) and is typically re-circulated.
+ The HEPA-filtered air is divided into 2 parts.
90% of the air flows through a diffuser and forms a vertical laminar flow into the working zone
10% of HEPA filtered air is bled out of the booth through the air outlet to maintain the working zone under negative pressure, minimizing airborne contamination breakout.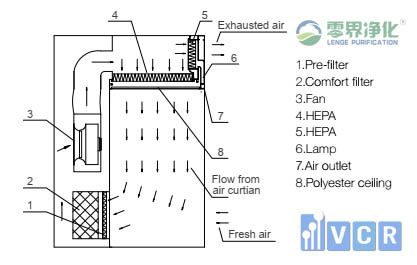 5. Dispensing booth features
+ Negative pressure design prevents the powder from escaping out of the working zone
+ Unidirectional airflow provides a superior aseptic working area
+ Stainless steel SUS 304 structure with rounded corners makes dispensing (sampling or weighing) booth hygienic, and easy to clean
+ 3-stage filtration method (pre-filter, fine filter, and HEPA filter included) provides excellent efficiency
+ Smart LCD control display ensures the proper performance of the booth
+ The maximum noise level of below 65 dB
+ Differential pressure gauges are equipped to monitor the integrity of the filters.
+ PVC curtain or air curtain increase the containment efficiency
+ Dispensing booth design according to GMP guidelines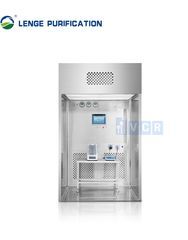 6. Dispensing booth applications
Dispensing booths are used in the pharmaceutical, chemical, electronics, vaccine and food industries, which have operations such as weighing, grinding, dispensing and filling which generate airborne particles; especially when:
processes involve hazardous, toxic materials
operators, adjoining areas require protection from exposure to aerosols of the process materials
7. Dispensing booth specifications
Technical specification
Material 

Stainless steel SUS304 / SUS 316

Filtration
3-stage filtration
-    Pre-filter
-    Fine filter 
-    HEPA filter
HEPA filter

99.98% at 0.3 micron

Pre-filter

G4 (90% arrestance at 10 microns)

Fine filter

F8 (90% at 0.4 micron)

Air velocity

0.45 m/s ± 20%

Noise

<75 dB

Power supply

Three-phase 380V/50Hz 

Differential pressure gauge

3 pcs

Curtain

PVC curtain / Air curtain

Illumination

LED lighting

Controller

Smart LCD touch screen
Below are standard sizes of dispensing booths provided by Vietnam Cleanroom: 
Model
Overall size WxDxH
Working size
WxDxH 
Air velocity (m/s)    
Working area clean class  
Power (kW)
LWR 13-120060

1300×1200×2570

1200×600×2000

0.45±20%

Same as the background area

0.8

LWR 34-150120

1600×1800×2570

1500×1200×2000

2

LWR 75-200200

2100×2800×2570

2000×2000×2000

4

LWR 112-300200

3100×2800×2570

3000×2000×2000

4

LWR 186 - 400250

4100×3300×2570

4000×2500×2000

7.5
8. Dispensing booth price
"How much does a dispensing booth cost?" is a question that VCR frequently receives when customers are interested in this product. The price of dispensing (sampling or weighing) booth depends on many factors, including:
+ Size
+ Quantity
+ Material
+ Optionals
Generally, dispensing booth price ranges from 3000$ to 10000$.
There are many kinds of weighing booths on the market. You had better choose the product from reliable suppliers. They will help you find the one suitable for your needs!
And if you have no idea of the supplier of dispensing booth in Viet Nam, please refer to Vietnam Cleanroom for fast and dedicated support!
Contact us via +84 90 123 7008 / + 84 90 123 9008 (Zalo/ Whatsapp)
Vietnam Cleanroom Equipment (VCR) specializes in providing cleanroom equipment for construction contractors.
We provide high-quality products with competitive prices and large quantities nationwide. The equipment includes:
Differential pressure gauge, FFU Fan Filter Unit, Pass box, Clean room air filter, HEPA box, Clean booth, cleanroom steel door, Isolator cabinet, and other equipment