Tuesday, 12/07/2022 | 14:46
Positive pressure room and negative pressure room
Negative or positive pressure rooms are an essential part of a wide range of research environments, as they help maintain clean conditions in working areas. In a positive pressure room, the air pressure inside your cleanroom is
Negative or positive pressure rooms are an essential part of a wide range of research environments, as they help maintain clean conditions in working areas. So what is a positive pressure room? What is a negative pressure room? Let's find out.
1. Positive pressure room
In a positive pressure room, the air pressure inside your cleanroom is greater than the pressure outside of it. This is achieved by pumping clean, filtered air into the cleanroom, generally through the ceiling.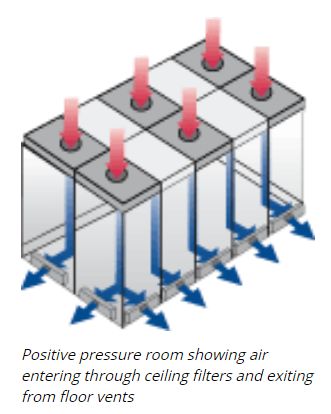 Positive pressure is used in cleanrooms where the priority is keeping any possible germs or contaminants out of the cleanroom. In the event that there was a leak, or a door opened, clean air would be forced out of the cleanroom, rather than unfiltered air being allowed into the cleanroom.
Positive air pressure cleanrooms are most commonly used in microelectronic industry, operations, etc. For example, in medical settings, a positive pressure room (protective environment) allows staff to keep vulnerable patients safe from infections and disease
2. Negative pressure room
A negative pressure room maintains the air pressure in the room lower than the pressure outside of the room. Generally, this condition is achieved by filtering air out of the room. In most situations, air enters through filters near the floor and then is sucked out through filters in the room ceiling.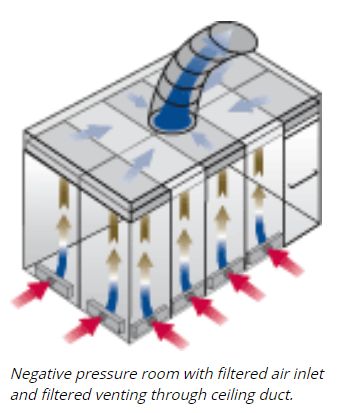 The goal of using negative pressure in cleanroom is to keep any possible contamination from escaping the cleanroom.
Negative air pressure cleanrooms are used in pharmaceutical industry, biochemical testing, and also in hospitals to quarantine seriously infectious patients. Any air that flows out of the room has to first flow out of a filter, ensuring that no contaminants can escape.
3. Similarities between positive pressure room and negative pressure room
Positive and negative pressure rooms both require a number of additional components to remain effective: Building positive and negative pressure rooms requires the use of specialized construction and climate control equipment. A minimum of 12 air-flow changes each hour must be maintained in order to sustain the desired environment and depending on the size and purpose of the room, more may be necessary.
Recirculation of air through HEPA filters to control the movement of airborne contaminants
Self-closing entryway with an adequate seal
Thoroughly sealed floors, ceiling, walls, and windows
Fans and ductwork to move air in the desired directions
A monitoring system that allows users to adjust pressure when necessary
Intermediate environment between the pressure room and outside environment for deliveries, observations, and protective gear storage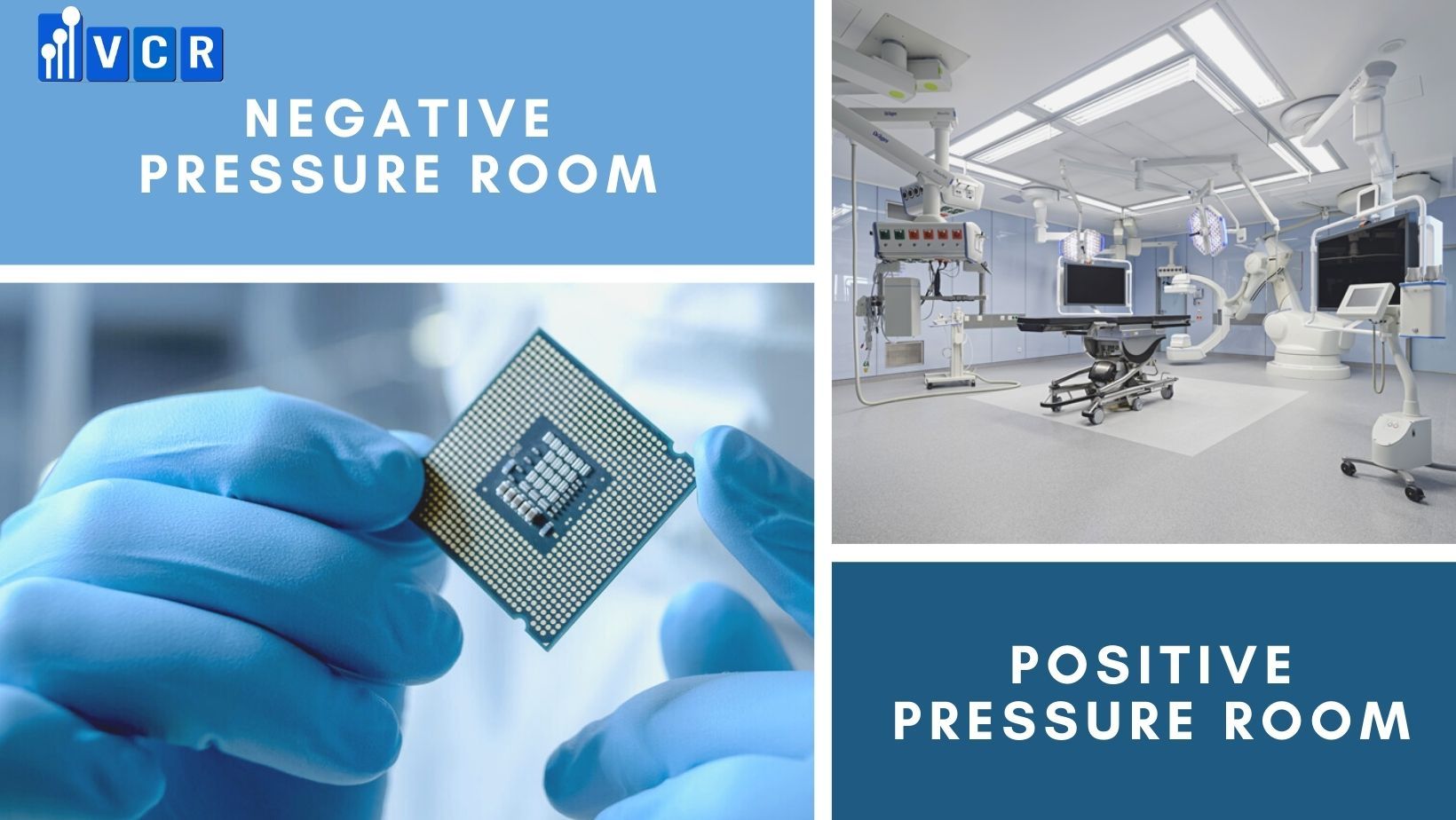 Vietnam Cleanroom Equipment (VCR) specializes in providing cleanroom equipment for construction contractors.
We provide high-quality products with competitive prices and large quantities nationwide. The equipment includes:
Differential pressure gauge, FFU Fan Filter Unit, Pass box, Clean room air filter, HEPA box, Clean booth, cleanroom steel door, Isolator cabinet, and other equipment